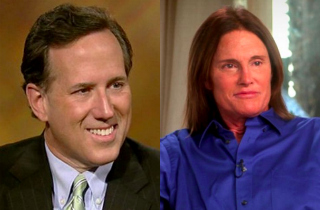 Bruce Jenner not only came out as a transgender woman in last month's big interview with Diane Sawyer. The former Olympian also came out as a Republican.
Asked by Sawyer whether he would ask Senate Majority Leader Mitch McConnell (R-KY) or House Speaker John Boehner (R-OH) to "help champion this cause," Jenner replied, "I would do that, yeah, in a heartbeat. Why not? And I think they'd be very receptive to it."
But while Boehner and McConnell have yet to reveal how "receptive" they are to the transgender cause, Jenner does have support from an unexpected member of the Republican Party: Rick Santorum.
Speaking to BuzzFeed's Rosie Gray from the South Carolina Republican Party's convention this weekend, Santorum had this to say about Jenner's transition:
"If he says he's a woman, then he's a woman. My responsibility as a human being is to love and accept everybody. Not to criticize people for who they are. I can criticize, and I do, for what people do, for their behavior. But as far as for who they are, you have to respect everybody, and these are obviously complex issues for businesses, for society, and I think we have to look at it in a way that is compassionate and respectful of everybody."
The potential 2016 Republican presidential candidate added that "these are tough issues" and, answering another question about what public restrooms Jenner should be able to use, said that he does not "think the federal government should get into the whole issue of bathrooms."
Santorum has long been a prominent foe of the LGBT community, so it is more than a little surprising to hear him express so much unconditional support for Jenner. Is it Jenner's embrace of the Republican Party that has Santorum feeling so friendly? Or could it be Jenner's declaration that being transgender does not make him gay?
As Jenner told Sawyer, sexual identity and gender are "apples and oranges," which may just explain why Santorum, who admits he would criticize someone's sexual "behavior," has nothing but respect in this case.
Watch the clip of Jenner discussing his sexual orientation below, via ABC:
[Photo via screengrab]
— —
>> Follow Matt Wilstein (@TheMattWilstein) on Twitter
Have a tip we should know? tips@mediaite.com