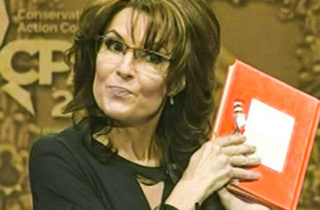 Oh, the places she'll go.
Sarah Palin did her best Ted Cruz impersonation at CPAC on Saturday, as we reported, with a bastardization of Dr. Seuss's Green Eggs and Ham that once again proves rhyming does not a poet make.
"I do not like this Uncle Sam. I do not like his healthcare scam… I do not like this kind of hope. And we won't take it, nope, nope, nope."

Fortunately for CPAC, I happen to have a niece who enjoys finishing books, so let's remind Palin how this particular children's fiction mainstay ends. The unnamed narrator, defiant and close-minded, finally agrees to try the titular dish, responding: "I do so likegreen eggs and ham. Thank you. Thank you. Sam-I-Am":
But why stop at finishing Green Eggs and Ham?
Surely Palin has read the final pages of Dr. Seuss's biting satire of the Cold War arms race, The Butter Battle Book, right? Well, here's more of Palin at CPAC: "Mr. President, the only thing that stops a bad guy with a nuke is a good guy with a nuke."
On second thought, let's put the classic Cold War parable on Palin's summer reading list: "'Grandpa!' I shouted. 'Be careful! Oh, gee! Who's going to drop it? Will you…? Or will he…?' 'Be patient,' said Grandpa.' 'We'll see. We will see…'"
Perhaps the most apt analogy for Palin herself is that of Mayzie from Horton Hatches the Egg:
An irresponsible bird more infatuated with Palm Beach extravagance than day-to-day responsibility learns that, while she has been gone, the hard work of others has made her completely superfluous.
— —
>> Clark Young is, above all things, a Mainer and Red Sox fan. Follow him on Twitter here.
Have a tip we should know? tips@mediaite.com