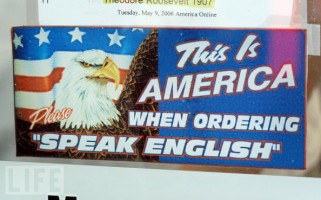 A controversy involving Sarah Palin? ¡Ay Dios mío!
Via Raw Story: Palin's Going Rogue book tour has gotten in hot water over guidelines distributed by the Mall of America, which ask that reporters refer to her as "governor" and mandate that "English-speaking press only" can attend.
Is this a legitimate screw-up by Palin & co., or just another small kerfuffle being blown up unnecessarily by Palin's opponents?
Swamp Politics' Mark Silva points out that the "governor" part isn't the outrage that some blogs will inevitably spin it as being — but gets in a zinger about what "inadvertently distributed" means:
Officials at the Minnesota mega-mall this week told reporters planning to cover the Minneapolis-area stop on Palin's Going Rogue book tour they must address the 2008 GOP vice presidential candidate who resigned as governor last summer by her old title – a common honor, actually, which normally is accorded to former governors.

But the mall also was banning foreign reporters, permtting "only English speaking press." That's not a common requirement.

Mall officials, calling the proposed guidelines a mistake, apologized to Palin today for "an internal miscommunication" that was "inadvertently distributed."

In other words, it got out.
Though this may be a minor embarrassment to the Palin campaign book tour, there is an angels-dancing-on-pins quality to it all: First, it's not as though Palin has been giving many interviews to many reporters, period. Second: book sales for Going Rogue are roaring along strong, with more than 600,000 copies sold in the book's first week of release.
Most importantly of all, it was the Mall of America that distributed the guidelines, not Palin's publisher HarperCollins. It's fair to wonder if the mall came up with the guidelines on its own or did so based on the preferences of Palin's handlers, but even if it's the latter, it sounds like Mall of America handled things clumsily.
An outrage that no one is reporting on: to have a chance at getting your book signed by Palin when she comes to the Mall of America on the 7th, "you have to have purchased your copy of Going Rogue at Barnes & Noble." Will no one give Books-A-Million a chance?
(via Raw Story)
Have a tip we should know? tips@mediaite.com