Scandal: Did DHS Official Resign Due To Government's Decision To Release Prisoners Over Budget Cuts?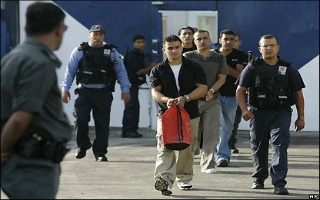 According to a breaking report from the Associated Press, an official with Immigration, Customs and Enforcement (ICE) has resigned as questions about the government's decision to release imprisoned illegal immigrants due to pending budget cuts continue to mount. In an email obtained by the AP, Gary Mead, the head of enforcement and removal operations at ICE, informed his coworkers that he will leave his post in April. A spokesperson for ICE, however, says that Mead has been scheduled to retire for many months after his 40 years of service.

A spokesperson for ICE told CNN's Jim Acosta that Meade was not resigning but retiring. He "announced several weeks ago to ICE senior leadership that he planned to retire after 40 years," Acosta wrote on his Twitter account. ABC News producer Jordan Fabian quotes the ICE official attacking the AP for their "inaccurate and misleading" report.
Mead's announcement comes after the Department of Homeland Security (DHS) announced it would begin releasing illegal immigrants who are currently being held in processing facilities across the nation ahead of the looming mandatory budget cuts contained in the sequester.
A spokesperson for the DHS told reporters that the suspects will be "placed on an appropriate, more cost-effective form of supervised release." Though the spokesperson said that public safety would be the highest priority, and violent illegal immigrants would continue to remain in incarceration.
UPDATE: AP has revised their original story and acknowledged that Mead's intention to retire was not influenced by ICE's move to release some undocumented immigrant prisoners.
> >Follow Noah Rothman (@NoahCRothman) on Twitter
Have a tip we should know? tips@mediaite.com