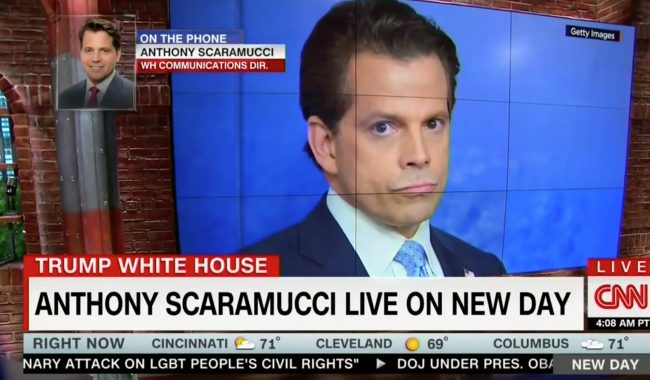 So — if you missed it.
White House Communications Chief Anthony Scaramucci called into CNN's New Day this morning and stumbled into an over 30 minutes marathon call with show co-anchor Chris Cuomo.
Did the call go off the rails? Depends who you ask.
What did transpire is that Scaramucci compared leakers to fish rotting at the head (presumably a swipe at Reince Priebus) while at the same time insisted his relationship with Priebus was brotherly (like Cain and Abel) He added that he had no problem with certain types of leaks.
You know it was nuts because during the whole exchange someone from the White House actually texted Bloomberg reporter Josh Green just before his own appearance on New Day to liken it to a "car crash."
The moment is the latest chapter in the biggest story of the last few days: The Reince-Scaramucci war. Twitter had quite a lot of feelings about that.
Check it out below.
I can't stop thinking about Scaramucci, Scavino, etc sitting around building a Carrie Mathison wall of crazy. Pls let this diagram leak. https://t.co/6serAGGYSC

— Matthew Miller (@matthewamiller) July 27, 2017
sort of feel like Scaramucci can't be real and that some version of him has appeared throughout history to herald the end of empires

— Brandy Jensen (@BrandyLJensen) July 27, 2017
I try not to overuse phrases by @POTUS, but sometimes I can't help it. Below is more evidence @Scaramucci is dumb as a rock. @Reince45 https://t.co/kFs9iqxscs

— Ted Lieu (@tedlieu) July 27, 2017
Anthony Scaramucci using Joe Paterno to describe honor is a poor choice

Penn State is still recovering from his "honor" pic.twitter.com/M7UsrJ6lhc

— Red T Raccoon (@RedTRaccoon) July 27, 2017
Guess what's getting more coverage:

Scaramucci feuding w/Priebus

OR

Trump extorting Murkowski to get her to deny health care to millions https://t.co/2uodWrsSfl

— igorvolsky (@igorvolsky) July 27, 2017
Anthony Scaramucci, Trump's new communications director, just called into CNN and had a meltdown | by @JuddLegum https://t.co/SilzIRnMwg

— SafetyPin-Daily (@SafetyPinDaily) July 27, 2017
I remember a couple days ago when the collective wisdom was how damn good Mooch was at this

— Sam Stein (@samstein) July 27, 2017
Scaramucci is the epitome of Trumpism, dominance games, aggression, but based on ignorance of basic facts abt public document requests.

— Josh Marshall (@joshtpm) July 27, 2017
Scaramucci thinks he's Rob Lowe joining Parks & Rec in season 2, but he's actually Butters joining South Park in season 3

— Cody Keenan (@codykeenan) July 27, 2017
The Mooch has brought much-needed stability to the administration in the same way the iceberg brought much-needed sea water to the Titanic.

— Rex Huppke (@RexHuppke) July 27, 2017
This thread is BONKERS. Either the Mooch day-drinks or he's involved in some sort of dare. Hell, maybe both. https://t.co/Ud2qzsrRaI

— shauna (@goldengateblond) July 27, 2017
Mooch's chosen enemy is the White House Chief of Staff and liberals are passing the popcorn not crying. https://t.co/XPbEpNQyXh

— Matthew Yglesias (@mattyglesias) July 27, 2017
Mooch is an idiot, and totally out of his element. There's no way he's going to survive at the WH for long. I give him 6-8 weeks – at most.

— Jon Cooper (@joncoopertweets) July 27, 2017
Have a tip we should know? tips@mediaite.com