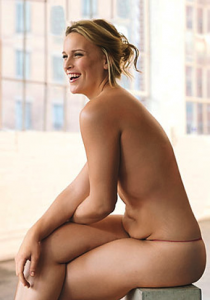 A three-by-three photo on page 194 of the September issue of Glamour has made a plus-sized splash with readers. Could the amount of positive feedback be a sign of things to come? Or is Glamour's plus-sized roll-out just a play to afford normal readers a sense of comfort in the world of flat bellies and diet tips?
Editor in chief Cindi Leive relayed some of the letters she has received from readers about the photograph in a post to one of Glamour's blogs, Vitamin G:
"The most amazing photograph I've ever seen in any women's magazine," wrote one reader in Pavo, Georgia. From another in Somerset, Massachusetts: "This beautiful woman has a real stomach and did I even see a few stretch marks? This is how my belly looks after giving birth to my two amazing kids! This photo made me want to shout from the rooftops."
The model, 20-year-old Lizzi Miller, also known as "the woman on p. 194," is a size 12-14. For all intents and purposes, she looks totally "normal," according to Leive, but she's definitely not what we're used to seeing in the pages of a women's magazine. Sure, from time to time we see attempts at renormalizing curvy girls in print, but these usually feel artificial and calculated — more of just a chance for magazines to pat themselves on the back.
Jezebel has consistently chimed in about magazines' attempts to include images of women with every body type. Following the release of the May issue of Glamour earlier this year, Jezebel applauded the title for filling its feature well with photos of women of every shape wearing swimsuits, before noting that immediately following the feature there was a hard cut back to weight-loss drivel.
That's why after this uplifting series of shapes and sizes, the VERY NEXT PAGE is: Hey, lose weight! That is a command! Whether or not you need to lose weight, you should probably take off say, 8, 10 or 12 pounds. We'll show you how! Feel free to keep doing crunches, LOL.
Jezebel and her commenters gave a roar of approval to the picture of Miller in the September issue:
On its own, the picture may not seem that incredible, but after flipping through 193 pages of uniform sample-size models, the image is striking. Rather than thinning her via Photoshop or having her sit in an unnatural pose, the model is shown with a bit of belly hanging over her underwear and slightly-bulging thighs, looking happy and genuinely confident.
But still a caveat for Glamour:
But still, being the ladymag with the most body diversity isn't that hard when your competition is Vogue. Both pictures of Miller were included in articles about body acceptance and May's plus-size swimsuit spread was a rarity. Every other model featured in this month's Glamour was very thin.
Newsweek's The Human Condition blog also picked up on the picture, showing pleasant surprise at the way a roll of Miller's paunch was featured so unabashedly. And Miller looks so happy with her body:
The spread is typical of the women's magazines I normally roll my eyes at: "self esteem" squeezed between pages of emaciated cheekbones, jutting shoulder blades and gangly arms. Except that this time, I do a double-take. The girl on page 194 of the September issue of Glamour is Lizzi Miller, a 20-year-old model with—get ready—a roll in her stomach.
Glamour's September issue has clearly tipped something in the dialogue about plus-sized (er… normal-sized) models. Newsweek's Human Condition really got it right: The picture itself is what is really groundbreaking here. Never before have women's glossy readers seen a model showing off a roll of fat with such joy. As for Jezebel's continued gripes, we think that photos of rolls will be restricted to articles about body acceptance for the foreseeable future; normal in gloss will never be normal in real life. It's called Glamour magazine, after all.
Then again, Leive writes: "Trust me, Glamour's listening, and this only strengthens our commitment to celebrating all kinds of beauty." We'll see if that 'celebration' will occur on a regular basis, not just when body acceptance is on the docket.
Update: Leive went on the Today show this morning to discuss reactions to the photo. "Will it change out approach — I think it will."

Have a tip we should know? tips@mediaite.com