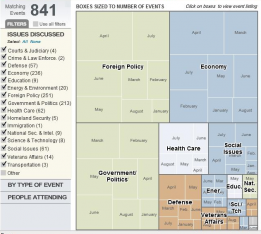 Up until now we were under the impression that CBS's Mark Knoller's twitter was all the POTUS tracking one person could need or want. Following Knoller, following the President, is the next best thing to having the President sign up for FourSquare. Want to know what hole Obama is on in his frequent rounds of golf? Curious what flavor of ice cream the Obama girls ordered? Knoller's on it. However! The Washington Post has decided to take POTUS tracking to another level (is it mere coincidence Knoller is on vacation this week?).
Today the Post launched PotusTracker, an interactive site which aims to provide "in-depth information and analysis on President Obama's schedule — including, but not limited to: daily briefings, meetings, phone calls, news conferences, overseas trips, and recreation." All the President that's fit to digitally interact with!
Using the Internet to create greater transparency about what's going on in Washington is not a new idea, in fact much of the WhiteHouse.gov was redesigned with the idea of transparency in mind (though they have arguably completely dropped the ball where the health care debate is concerned). It's also one of the enormous benefits of the huge technological advances we've made on the Internet. But wow, this tracker, while providing a great visual report of how much time Obama is spending on various issues, is aiming for such detail one wonders if the President will be able to use the bathroom without someone noting the statistics of his decision thereof.
Of course, all this interest is in part a measure of the sort of celebrity Obama engenders, but it's also hard not to wonder if it had been available eight years ago, whether George W. Bush et al. would have been able to get away with everything we are only now discovering that they managed to get away with.
Have a tip we should know? tips@mediaite.com