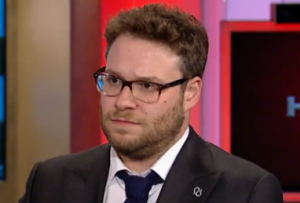 Actor Seth Rogen gave a funny and very impassioned speech yesterday about Alzheimer's disease and how it's impacted his family before an Senate Appropriations subcommittee. Precisely two senators showed up to the hearing. Rogen took to Twitter yesterday and today to publicly shame the senators who didn't show up. And on top of that, Rogen revealed to Chris Matthews last night that during the first part of the testimony, senators were falling asleep.

Rogen's passion for the issue clearly shone through in his opening statement yesterday, and the fact that so few senators showed up got him going. He fired off a few tweets calling out the near-empty Senate panel, even engaging with one of the absent senators.
Not sure why only two senators were at the hearing. Very symbolic of how the Government views Alzheimer's. Seems to be a low priority.

— Seth Rogen (@Sethrogen) February 26, 2014
.@SenatorKirk pleasure meeting you. Why did you leave before my speech? Just curious.

— Seth Rogen (@Sethrogen) February 26, 2014
All those empty seats are senators who are not prioritizing Alzheimer's. Unless more noise is made, it won't change. pic.twitter.com/xDW6tlMHmH

— Seth Rogen (@Sethrogen) February 26, 2014
@SenatorKirk symbolically, it hurts the cause to see that many empty seats. Wish you hung around. Nice meeting you.

— Seth Rogen (@Sethrogen) February 27, 2014
Rogen also had a back-and-forth with the official Twitter account for the Senate Appropriations Committee, and one tweet they sent out just made him crazy.
@SenateApprops four left after the first panel. Only two at mine.

— Seth Rogen (@Sethrogen) February 26, 2014
@Sethrogen understand your frustration & respect your passion. It's kind of like how we feel when elections are held & many people stay home

— Sen. Appropriations (@SenateApprops) February 27, 2014
@SenateApprops except voters aren't being paid taxpayers dollars to show up.

— Seth Rogen (@Sethrogen) February 27, 2014
@SenateApprops that might be the worst comparison I've ever heard.

— Seth Rogen (@Sethrogen) February 27, 2014
You can watch Rogen's statement below, via C-SPAN:
And you can watch his Hardball appearance below, via MSNBC:
[photo via screengrab]
— —
Follow Josh Feldman on Twitter: @feldmaniac
Have a tip we should know? tips@mediaite.com
Josh Feldman - Senior Editor