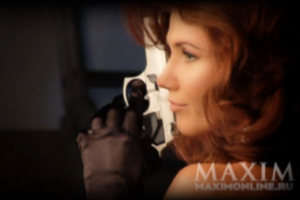 Incompetent but sexy Russian spy Anna Chapman really knows how to stretch out her 15 minutes of fame, even if she's no longer allowed in the United States. Chapman, whose claim to fame is captivating the media's attention during a more innocent time when the rent was not 2 damn high and Juan Williams used to work for NPR (remember that?), turned down a porn career a few months ago, but that doesn't mean she won't strip for Maxim.
Maxim Russia, that is, where she has won awards for her… espionage… and remains a national heroine. The photo shoot features her in various states of undress wielding guns and pouting for the camera. Imagine: had she found her calling (of being a Maxim model) before her American intelligence misadventures, she would have never become famous enough to post for Maxim!
And because everyone reads Maxim for the articles, there is an interview with Chapman to accompany the article. From her biography (translation thanks to New York Daily News via Washington Post):
"No you are not sleeping and your eyesight is not deceiving you," the Maxim website says in Russian. It is "the world-famous red-headed spy, the mysterious debutante from our list of the country's 100 sexiest women."

"Seduction, like love and friendship are the same everywhere," she told Maxim in Russian, when asked which men are easier to seduce, Russians, British or Americans.

"Most men are divided in three categories: primitive, those that only want sex; smarter, those that want to be loved, and [the] last group — those that not only want to be loved, they also need that this love will be the biggest and most amazing feeling in your life," she said.

"Those are the most difficult, but that is my favorite category," Chapman added.
Is this what Russian guys go for? No wonder she failed so miserably at intelligence gathering. A (probably NSFW) video of Chapman's photo shoot below:

Have a tip we should know? tips@mediaite.com