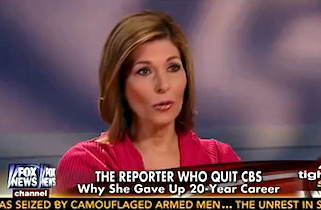 Sharyl Attkisson believes she is on some kind of White House enemies list.
In an interview published late Monday, the former CBS News investigative reporter told The Hollywood Reporter that she has been told an Obama "targeting" list exists and that she and other reporters are on it:
Asked why she'd be on the list over hyper-partisan pundits like Rush Limbaugh or Glenn Beck, Attkisson responded:
The question carries the assumption that they haven't targeted others. I kind of assume I'm on a list. I don't think I'm the only one, along with James Rosen and the Associated Press, that garnered special attention. There's probably a list of people.
Pressed on whether this list is one revealed to have existed during President Richard Nixon's administration, the former CBS reporter replied: "I've been told there is such a list, yes."
Since leaving the network, Attkisson has published a book entitled Stonewalled, which alleges newsroom and administration attempts to silence her reporting on the White House's activities. During the book's press tour, she revealed video alleging to show hackers accessing her computer while she filmed it. In the book, Attkisson claims unnamed sources told her this was the act of a government agency.
Asked by THR to name specific people on the alleged enemies list, Attkisson was cagey:
Well, there's an internal email that indicated reporters who were working with leakers in government agencies or perceived as enemies of the White House are being targeted. So I think that's probably accurate — anybody that they perceive as harmful to their agenda or working with leakers and whistle-blowers, which I did a lot of.

[…] Another reporter told me — I can't remember who — that they thought he was on some sort of target list, but I don't know that to be the case. I have someone who told me the existence of a list but not the names on it.
Read the full interview here. And more Mediaite coverage of Attkisson here.
— —
>> Follow Andrew Kirell (@AndrewKirell) on Twitter
Have a tip we should know? tips@mediaite.com