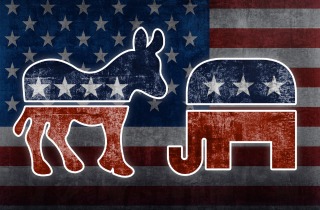 As results come in Tuesday night for the hundreds of political races taking place across the U.S., there's a lot for people to keep their eyes on, including the balance of power in the Senate, which party picks up the most seats in the House and several gubernatorial face-offs.
Mediaite will be covering all the important stuff throughout the day and night, but we've put together a comprehensive list of places to keep up with it everything else, including interactive maps, poll numbers and live video streams.
Maps and Graphics:
NYTimes.com and USAToday.com have interactive maps showing results live.
NBCNews.com has a webpage with live graphs showing the balance of power in Congress as results come in, as well as a chart that shows which races to keep an eye on.
Polling:
Real Clear Politics has all of the latest poll numbers for every race taking place across the country.
Live blogs:
CNN.com has an hour-by-hour roundup of what will be happening throughout the night.
ABCNews.com is running a live blog on election updates from Senate, House and Gubernatorial races.
WashingtonPost.com also has a live blog with election updates.
Streaming analysis:
The Wall Street Journal online will have a live-streaming panel starting at 9 p.m. ET analyzing the election results as they come in. Guests include Sen. Rob Portman (R-Ohio).
David Gregory will join Katie Couric at Yahoo! News to analyze election results. It begins at 5 p.m. ET
FoxNews.com will have a live-streaming roundtable featuring Fox News personalities analyzing election results and predictions beginning at 9 p.m. ET.
Watch NBC News' Livestream starting at 10 p.m. ET. below:
[Photo via Shutterstock.com]
— —
>> Follow Eddie Scarry (@eScarry) on Twitter
Have a tip we should know? tips@mediaite.com