'Shove It Up Your Ass': Democratic Congressman Has Choice Words For Where Trump Can Put His Wall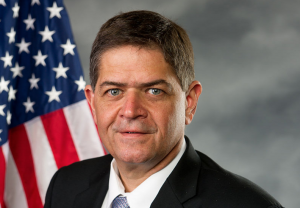 Tell us how you really feel, Congressman!
Texas Representative Filemon Vela Jr. (D) penned an open letter this morning to the Republican party's presumptive nominee Donald Trump and did not mince words over the candidate's proposed border wall.
Vela Jr., the Representative for the Lonestar State's 34th District, addressed the letter directly to Trump at his New York City address. In it, the Congressman harshly told the real estate mogul, "…your ignorant anti-immigrant opinions, your border wall rhetoric, and your recent bigoted attack on an American jurist are just plain despicable."
The letter continues in part:
Your position with respect to the millions of undocumented Mexican workers who now live in this country is hateful, dehumanizing, and frankly shameful. The vast number of these individuals work in hotels, restaurants, construction sites, and agricultural fields across the United States… Thousands of our businesses would come to a grinding halt if we invoked a policy that would require "mass deportation" as you and many of your supporters would suggest.
Vela also used the opportunity to highlight the sacrifices to this country made by countless Americans of Mexican descent who have served, "…in every conflict since the Civil War." Vela then turned his attention onto the newest controversy to rock the Trump Train's momentum: the accusation that Gonzalo P. Curiel — the United States District Judge currently overseeing the Trump University fraud case — is biased in his commitment to the Constitution as a result of his ancestry. "Judge Curiel is one of 124 Americans of Hispanic descent who have served this country with honor and distinction as federal district judges," Vela writes.
Some of the harshest language in Congressman Vela's letter comes at the very end (emphasis delightfully mine):
I will not presume to speak on behalf of every American of Mexican descent, for every undocumented worker born in Mexico who is contributing to our country every day or, for that matter, every decent citizen in Mexico. But, I am sure that many of these individuals would agree with me when I say: 'Mr. Trump, you're a racist and you can take your border wall and shove it up your ass.'
Cue Trump's response via Twitter in 3, 2, 1…
You can read Filemon Vela's entire letter to Donald Trump here.
—
Have a tip we should know? tips@mediaite.com