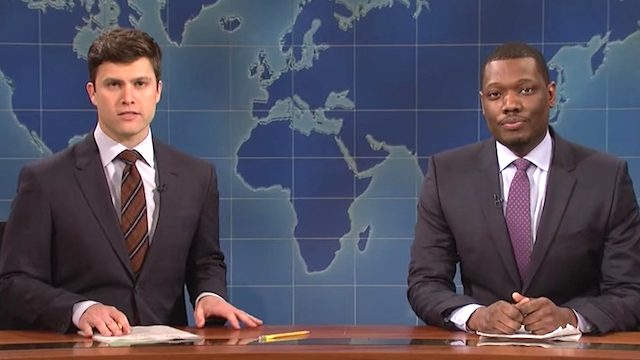 Saturday Night Live has been having an amazing season in terms of both ratings and reception. People are loving it. Back in February, it was reported that NBC was looking to spin off its "Weekend Update" segment into a weekly primetime show. Now, according to The Hollywood Reporter, that's exactly what's going to happen, starting in August.
Starting on Thursday August 10th at 9:00pm, Michael Che and Colin Jost will host four primetime episodes of "Weekend Update." NBC's entertainment chairman Robert Greenblatt told THR, "SNL is having its best season in a quarter of a century — how many shows can say that?! — so we didn't want them to take the summer off."
Other cast members will reportedly appear on the show as well. The move isn't entirely unprecedented. During the 2008 and 2012 elections, NBC aired "Weekend Update" segments on Thursday nights. In the 2009-2010 season, they were supposed to air six primetime episodes as well, but only ended up showing three.
[image via screen grab]
Have a tip we should know? [email protected]
---