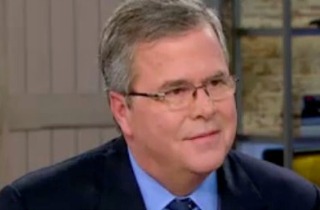 It's official: presumptive GOP presidential candidate Jeb Bush will not attend the glorified knockout game known as the Iowa Straw Poll.
The Des Moines Register reports that instead of attending the Straw Poll, which has eaten fledgling presidential campaigns alive and spat out their bones, Bush will attend the RedState Gathering in Atlanta, Georgia, and plans to speak to the conference on the very day the Straw Poll is conducted.
Other attendees of the RedState Gathering include presidential hopefuls Carly Fiorina, Rick Perry, Bobby Jindal, and Scott Walker, but it's unclear whether any of them plan to attend both events and/or risk the wrath of the Iowa Republican Caucus. And considering the disproportionate power that Iowa holds in the election cycle — its caucuses are scheduled first, and anyone who does not properly pay tribute to the farmers tends to fail early — Jeb's gamble could possibly jeopardize his chances in the election.
Or maybe he's just done playing the Iowa game, because the caucus itself is five and a half months after the Straw Poll. Notes the Register:
The straw poll has been bashed as having outsized importance, even to the point of having losing candidates drop out of the race. Campaigns sometimes spent hundreds of thousands of dollars at the straw poll as a sort of dry run for the Iowa caucuses.
HOW DARE YOU QUESTION THE IMPORTANCE OF THE IOWA STRAW HUNGER GAMES POLL, DES MOINES REGISTER.
[Image via screenshot]
—
>> Follow Tina Nguyen (@Tina_Nguyen) on Twitter
Have a tip we should know? tips@mediaite.com