St. Louis Fox Affiliate Broadcasts Chyron Which Slams Rams COO as 'Professional Liar'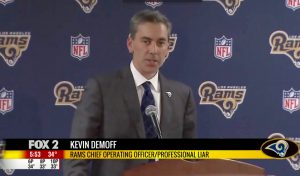 There have been plenty of bad feelings in St. Louis over the departure of the Rams, who left the city earlier this year and moved out to Los Angeles. As such, many fans in St. Louis (and elsewhere) took delight in the Rams' firing of head coach Jeff Fisher on Monday. And so too did a local St. Louis TV station.
KTVI, St. Louis's Fox affiliate, aired a report on Fisher's dismissal during their 5:00 p.m. newscast on Monday. In it, they included footage of Rams chief operating officer Kevin Demoff speaking in muted tones at a press conference announcing the firing. And beneath Demoff's mug was a chyron which read:
"KEVIN DEMOFF: RAMS CHIEF OPERATING OFFICER/PROFESSIONAL LIAR"
After Rams fans were irate about statements Demoff made which led them to believe that the team wasn't going anywhere. In 2012, he told the team's website: "I know people want to paint a doomsday scenario. But (owner) Stan (Kroenke) has been emphatic on this point: He didn't lead the charge to bring the Rams back to St. Louis to lead the charge out of St. Louis. Our goal is to build a winner in St. Louis not only in 2012, but in 2022, 2032 and beyond. This city deserves better NFL football and that is what we are focused on every day."
Those words and others apparently earned Demoff that biting chyron, at least in the eyes of the producer of KTVI's 5:00 p.m. newscast.
Watch above, via KTVI.
[image via screengrab]
–
Follow Joe DePaolo (@joe_depaolo) on Twitter
Have a tip we should know? tips@mediaite.com
Joe DePaolo - Senior Editor