Morning Joe Cuts Off Pro-Russia Congressman's Mic in Completely Off-The-Rails Interview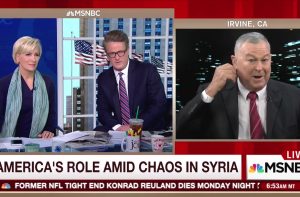 Republican California congressman Dana Rohrabacher, best known for his stridently pro-Russian foreign policy and derided by critics as "Putin's favorite congressman," went on MSNBC's Morning Joe to explosive results Tuesday.
The interview immediately turned contentious when host Joe Scarborough started by asking Rohrabacher why the United States was doing nothing while Russia and Syria slaughtered the Syrian people. "Well that's a question that's based on false premises," Rohrabacher replied.
"No it's not! No it's not!" insisted Scarborough.
After a few rounds of shouting over each other, Rohrabacher threatened to bail on the interview. "Are you going to let me answer? Goodbye!" he said, beginning to take out his earbud. "Goodbye, if you're not going to let me say anything, it's goodbye!"
After both men continued yelling that the other wasn't letting them talk, an exasperated Mika Brzezinski stepped in. "Okay, you got ten seconds. Go," she told Rohrabacher.
The congressman argued that the United States was at war with radical Islam and that Russia should be the nation's ally in that fight. "We allied with Stalin in order to defeat Hitler. Stalin was a horrible man, he murdered millions of people. But we knew Hitler was the bigger threat," he pointed out.
"You're comparing Putin to Stalin. I think that's an apt comparison," Scarborough snarked.
The host then threw to two other guests to get their takes. But when former DoD Russia expert Evelyn Farkas mentioned Syrian dictator Bashar al-Assad, Rohrabacher interrupted. "Assad is not our enemy. Neither is Russia our enemy. The radical Islamists who have been murdering Americans by the thousands since 9/11 are the enemy," he said.
"What if we are an accomplice to evil? Should we be an accomplice to evil?" responded MSNBC's Elise Jordan. "Are you endorsing the full scale embrace of authoritarian dictators who are murdering women and children?"
But Rohrabacher kept talking over her questions, prompting Scarborough to cut his mic. "If you could cut Dana's microphone so we can actually have a question asked. If Dana can stop talking, we can have a question asked," he said.
After some more sniping back and forth, Rohrabacher returned to—surprise, surprise– radical Islam. "Right now we are facing an enemy that wants to destroy Western civilization…" he began.
"Jesus," one of the female panelists muttered under their breath.
When the segment ended, Scarborough (himself a former congressman) got in one last shot at Rohrabacher. "A little different from the Dana I served with," he lamented.
Watch above, via MSNBC
[Image via screengrab]
—
>>Follow Alex Griswold (@HashtagGriswold) on Twitter
Have a tip we should know? tips@mediaite.com