'Stop It': Trump Tells Supporters Not to Perpetuate Bigotry, Harass Minorities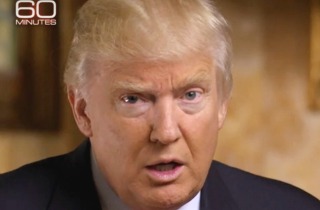 As part of his 60 Minutes interview, President-Elect Donald Trump talked about the protests being done against him, and several nasty incidents that have been connected to his rhetoric.
When Lesley Stahl addressed how fearful critics have demonstrated against Trump's rhetoric since Election Night, Trump talked about how they don't really know or understand the real him. After Trump said that at least some of them were paid, professional protesters, Stahl pointed out that "they listened to you in the campaign."
"When they demonstrate against you and there signs out there, I mean, don't you say to yourself, I guess you don't, you know, 'do I have to worry about this? Do I have to go out and assuage them? Do I have to tell them not to be afraid?' They're afraid."
"Don't be afraid. We are going to bring our country back, but certainly, don't be afraid," Trump said. "If Hillary [Clinton] had won and if my people went out and protested, everybody would say, "oh, that's a terrible thing," and it would have been a much different attitude."
Stahl also asked Trump about how numerous racially-charged acts of violence and intimidation have taken place recently, many of which reference Trump. Trump said he hasn't heard much about such things, but Stahl asked if would care to address the people who have harassed Latinos and Muslims after his victory.
"I would say 'don't do it, that's terrible, because I'm going to bring this country together,'" Trump said. "I am so saddened to hear that. And I say, 'Stop it,' If it helps, I will say this, and I will say right to the cameras: Stop it."
Watch above, via CBS.
[Image via screengrab]
— —
>> Follow Ken Meyer (@KenMeyer91) on Twitter
Have a tip we should know? tips@mediaite.com