Syrian President Bashar Assad Accused Of Using Poisonous Gas On His Own People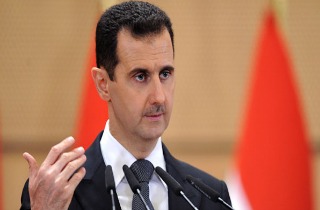 Syrian eyewitnesses claimed Monday that several activists have died after inhaling poisonous gas released by the government. Although U.S. and international news sources are reporting on the story, ABC notes that claims by either side in the Syrian civil war are "almost impossible to independently verify" because journalists are not allowed access to the country.
Citizens were admitted to a local hospital with breathing problems after Sunday's bakery attack. Opposition groups posted a video to YouTube, where some of the information regarding the gas comes from.
Many believe the gas is a "concentrated irritant" but not a deadly chemical weapon. Doctor Mousab Azzawi, chairman of the Syrian Network for Human Rights, told NBC News that his group received three eyewitness reports following the attack. According to Azzawi, doctors in Homs reported patients "losing consciousness, experiencing severe shortness of breath and vomiting."
"To our understanding," Azzawi said, "this is similar to poisoning with pesticide." He expressed concern that the attack would signal the willingness of President Bashar Assad to use stronger chemical weapons in the future.
Walid Fares, spokesman for the Homs Revolutionary Council, said in a statement to NBC News that the "poisonous gases" came from government tanks. The statement continued,
"The shells did not explode but rather emitted a cloud of white smoke and it landed in residential areas… where revolutionaries had gathered and which led to tens being injured."
Symptoms, according to Fares, included "complete absence of vision" and severe breathing problems.
Fares attempted to confirm the poisonous nature of the gas, saying,
"The initial analysis of the doctors in the hospital confirmed that it is a poisonous gas that contains banned substances."
Fares statement reported seven deaths as of Monday and nearly 50 more injured.
Have a tip we should know? tips@mediaite.com