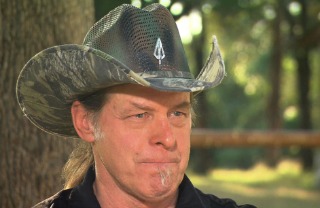 School resource officer Ben Fields was fired yesterday due to not following proper procedure when he rough-housed an uncooperative high school student by throwing her around the classroom. Nonetheless, conservative rocker Ted Nugent decided to get in on things with a column for WorldNetDaily, and didn't mince words when he wrote "That High School Brat Had it Coming"
Nugent began by applauding Fields for taking action against the "defiant brat" by forcefully removing her after she refused to stop being disruptive and not obeying orders.
"[Fields] dragged her kicking and squealing like the disobedient punk she is," Nugent wrote. "By all accounts, the brat, like so many undisciplined brats before her, simply refused to obey the rules, refused to obey the teacher, refused to obey the principal and refused to obey officer Fields."
Nugent also took aim at the "liberal denial freaks" and "the obscenity of political correctness" that criticized Fields' excessive force in the days leading up to his firing. Nugent speculated about the student's potential history of a lack of discipline, and said that Fields did the right thing by giving her "a dose of reality".
"In every case I know of where cops have been wrongfully accused of using unnecessary force, the so-called victim has disobeyed simple commands, and therefore asked for the resulting use of necessary force to bring the situation under control," Nugent said.
"Obey and you won't get ripped from your desk and put under control. Act like an animal and you will end up being treated like an animal."
[h/t RWW]
[Image via screengrab]
— —
>> Follow Ken Meyer (@KenMeyer91) on Twitter
Have a tip we should know? tips@mediaite.com