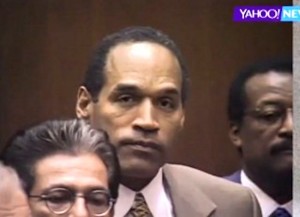 Donald Trump had this idea once on how to drum up better ratings for Celebrity Apprentice: have O.J. Simpson on as a competitor.
In a Howard Stern interview retrieved by Andrew Kaczynski and Nathan McDermott, Trump talked about how Stern and Simpson were both his wedding guests when he married Marla Maples in 1993. As the discussion went on, Trump said that he wanted Simpson on his show, but "NBC went totally crazy" and the idea was scrapped.
"In your business, there's a thing called ratings. And, you know you can come up with a cure for cancer — I found out a lot about your business — because, hey, I'm the biggest star. I'm now the biggest star. So I know that if you come up with a cure for cancer, and if you put it on, and if it doesn't get ratings, they will not broadcast it…So, you come with a cure for a disease, no good. Now, I know this if I put O.J. on, huge ratings."
Throughout the conversation, Trump noted that he used to be friendly with The Juice before the latter went on trial in 1995 over Nicole Brown's murder. Trump went on to say that Simpson would've agreed to be on the show, but when Stern asked if the mogul actually talk to him about it, Trump sidestepped and said "I hadn't spoken to him in years, I don't like people that kill their wives."
CNN Money noted that Trump once told Extra back in 2008 that NBC officials had a "heart attack" when he pitched the idea. It's not clear when Trump wanted Simpson on the show, though the former running back was arrested in 2007 in connection to a Las Vegas robbery, for which he was later convicted.
[Image via screengrab]
— —
>> Follow Ken Meyer (@KenMeyer91) on Twitter
Have a tip we should know? tips@mediaite.com