The Hill Scrubs Articles By Pro-Trump Group Adviser After Mediaite Report on Nazi Remarks
The Hill has dropped contributor Juan Pablo Andrade, also a policy advisor for America First Policies after Mediaite published a report on his vile comments praising Nazis.
"As soon as The Hill was made aware of this video and the comments made by Mr. Andrade, we are no longer publishing his opinion pieces and are removing his work from our site," a spokesperson from The Hill told Mediaite.
Earlier on Wednesday, Mediate's Caleb Ecarma published a report that included a Snapchat video of Andrade making provocative remarks while attending a Turning Point USA conference near President Donald Trump's Mar-a-Lago resort in December.
"The only thing the Nazis didn't get right is they didn't keep fucking going!" Andrade is heard exclaiming in the video filmed in a hotel room paid for by Turning Point USA.
Aside from his writing for The Hill, which included a number of staunchly conservative opinion pieces, Andrade serves as policy advisor for America First Policies, a pro-Trump nonprofit. Per his LinkedIn page, he previously worked on Trump's National Hispanic Advisory Council, Trump's National Diversity Coalition and the Trump campaign as a surrogate.
Andrade is also seen in the video standing next to Cæsar Svbervi, an alt-right activist who attended the Charlottesville march and has ties to Richard Spencer.
It was that video that prompted The Hill to take action to remove his work from their page.
A survey of The Hill on Thursday afternoon shows that Andrade's page had indeed been scrubbed from the site.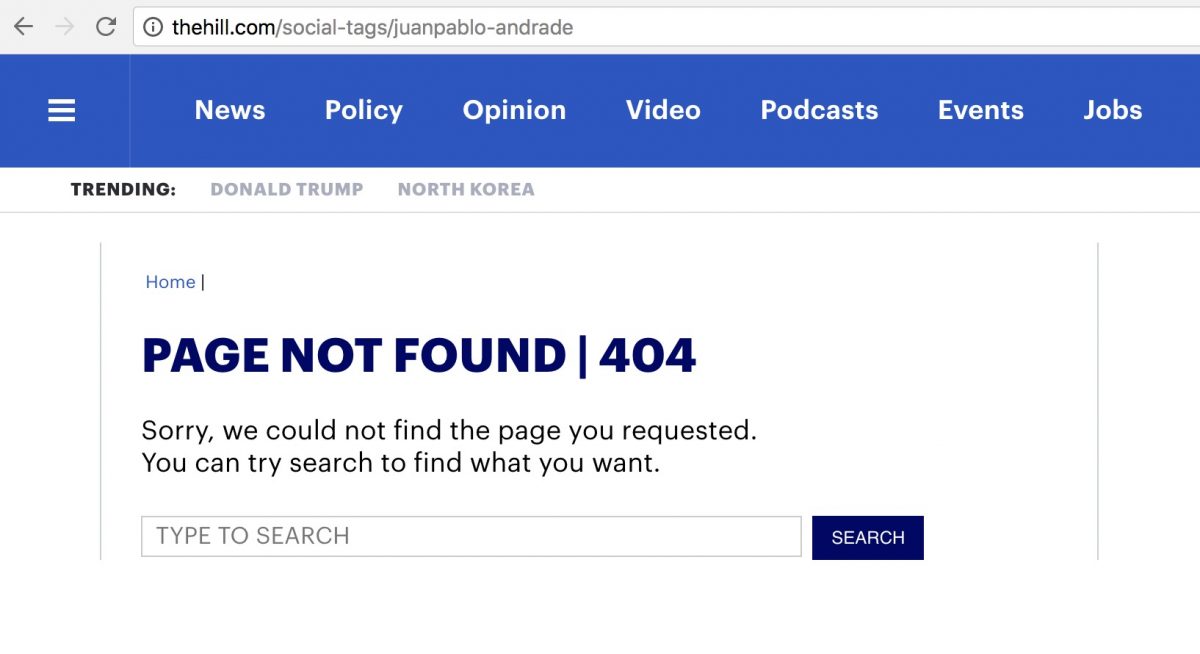 [image via screengrab]
Have a tip we should know? tips@mediaite.com