WATCH: Policy Advisor For Trump-Tied 'America First' Group Praises Nazis: They Should've Kept 'Going' (Exclusive)
Last December, in a Florida hotel room just three miles from President Donald Trump's "Winter White House," a policy advisor for the Trump-tied nonprofit America First Policies praised Nazis and expressed disappointment that they didn't "keep fucking going."
Juan Pablo Andrade voiced his love for the Third Reich — in a video obtained by Mediaite — while attending a Turning Point USA conference, which is a youth conservative organization, endorsed by everyone from Trump to Senator Marco Rubio, known as much for racism as it is for diaper-wearing.
The organization — founded by Charlie Kirk and in the news recently because one of its members received Twitter shoutouts from Kanye West and Trump – held its 2017 annual activism summit in West Palm Beach, Florida, a stone's throw from Trump's Mar-a-Lago resort. It was attended by more than a thousand young conservatives, and featured speeches from first-son Donald Trump Jr., Wisconsin Governor Scott Walker, Fox News personality Tomi Lahren, right-wing pundit Ben Shapiro, ex-White House official Seb Gorka, and a slew of other personalities inhabiting the MAGA-sphere.
Andrade, aside from his work for the pro-Trump America First group, has quite the resume. Per his LinkedIn account, he worked on Trump's National Hispanic Advisory Council, Trump's National Diversity Coalition and the Trump campaign as a surrogate. He writes for The Hill as an opinion contributor and has shared his political opinions on NewsmaxTV, CNN Latino, and Univision. Additionally, he worked for TPUSA as the group's Florida field director in 2015 and led the group's informal Latino caucus in 2016, according to sources with direct knowledge of his involvement in the nonprofit.
He was even featured on the 2017 30 under 30s of Newsmax and Red Alert Politics, which are power lists compiling prominent young conservatives in America. Andrade made RAP's list in November 2017 — one month before he was recorded praising Nazis.
While it may seem odd that a political figure tied so closely to the Trump administration felt the freedom to endorse Nazi genocide on-camera, Andrade did so in distinctive company. Also in the hotel room was a close friend of Andrade's, Cesar Subervi, an alt-right activist who participated in the Charlottesville white supremacist march and has been filmed with Richard Spencer.
"The only thing the Nazis didn't get right is they didn't keep fucking going!" Andrade exclaimed to Subervi and several other fellow conference attendees in a hotel room that Mediaite learned was paid for by TPUSA.
This clip was uploaded to Subervi's Snapchat "Story," which is a feature of the app that allows users to post content for all their followers to see for 24 hours.
Another disturbing video posted to his Snapchat during TPUSA's summit shows Subervi, who was also a student activist at Coastal Carolina University, saying it was "awesome" that someone who he thought was protesting the conference got run over by a car.
"This is the car that hit the fucking protester," Subervi said while filming a vehicle with a destroyed hood. "She smashed that bitch, that is awesome!"
The pedestrians injured by that vehicle were not linked to the protest however, and were involved in a separate traffic accident, the Palm Beach Post reported. Subervi's Snapchat celebrating the accident recalls the Unite The Right white supremacist rally he attended, where counter-protester Heather Heyer was murdered by a driver.
Several sources with knowledge of TPUSA's operations, who spoke to Mediaite on the condition of anonymity, said Subervi was added to a "blacklist" of activists that the nonprofit's leadership wanted to keep away from their Student Action Summit to avoid controversy. The list was later scrapped in an effort to boost attendance numbers, sources said.
As can be seen in the photo above — which was taken by this reporter while covering the Unite The Right rally — Subervi, who is wearing the grey Clemson University hat and sunglasses, participated in the Charlottesville protest on August 12, 2017. In this picture, he is in the bed of a truck talking with AR-15 wielding members of far-right, anti-government militia groups.
Subervi's social media posts, which include calling for genocide of certain demographic groups and expressing his hatred for Muslims, may serve to explain his attendance at the Unite The Right rally.
"My favorite part about getting on a conversation about politics with strangers is watching their reaction of disgusted surprise when they realize I basically just advocated for the genocide of all the demographic groups they support instead of agreeing with their garbage," posted Subervi late last year.
"The thought of starting my own 'political blog' has crossed my mind 2 or 3 times since it seems basically every single person who has the slightest political leaning has one lmao," he added in follow-up post. "But surprisingly I'm not narcissistic enough to think people actually care about what I have to say, plus I figure there's only so many times I could write about how much I hate muslims or why America needs a dictator."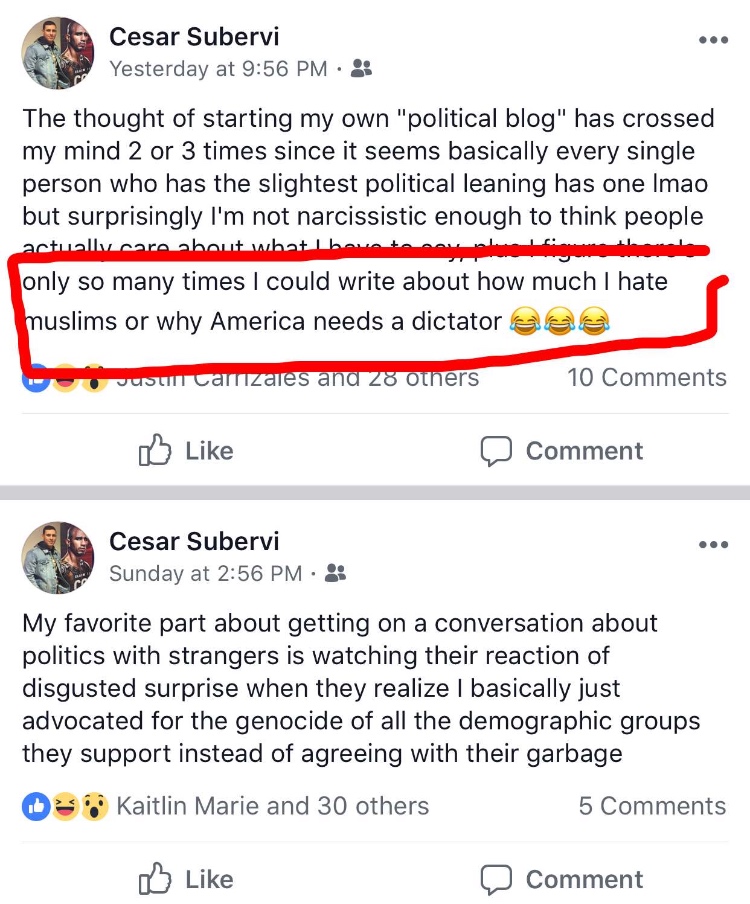 Oh, and for any readers who don't recognize the name Kaitlin Marie Bennett, who liked Subervi's Facebook post on committing genocide, she is TPUSA's former campus leader at Kent State University, where she famously tried to trigger liberals by making her student activists dress up in diapers and crawl around in cribs.
Oddly enough, Subervi — who sources said is tied to the "western chauvinist" Proud Boys group — is ethnically Dominican, but holds the same views as the white supremacist alt-right movement. Additionally, America First Policies' Andrade is Venezuelan.
Hispanic alt-righters, however, are actually not an anomaly.
Puerto Rican Alex Michael Ramos, who identifies as a "brown Klans member," also participated in the Charlottesville march. Ramos, along with several other white men, was caught on video viciously beating a black counter-protester who the group left with a massive head wound and a broken wrist. Ramos was convicted of malicious wounding earlier this month.
A number of others with Hispanic backgrounds took part in the Unite The Right rally, including Cuban-American Christopher Rey Monzon, who is tied to the white supremacist group League of the South, and Mexican-American Nick Feuntes, who is an alt-right media personality and champion of "white identity."
As for Andrade, he currently works as an adviser for America First Policies — a dark money group that conducts polls and surveys. CNBC recently reported on controversy surrounding possible coordination between the group, the White House and the Republican National Committee. America First Policies holds a tax-exempt status and is not required to report donors, but appears to be doing the same polling work that is typically conducted by a candidate's campaign and the RNC.
The group's other initiatives include publishing pro-Trump literature and promoting the administration's agenda by hosting campaign rally-esque events across the country — with a speaker list that even includes Vice President Mike Pence.
America First Policies also seems to have a knack for hiring people who have made — at the least — controversial comments about race.
A report from CNN's KFile team found that now-former Trump appointee Carl Higbie made a number of racist, sexist, anti-gay and anti-Muslim remarks, including claiming black people are "lazier" than whites and admitting that he is "racist" against "Muslims." Higbie was relieved of his Trump administration appointment following the KFile article, but he wasn't out of a job for long. America First Policies quickly swooped-in and hired him as director of advocacy.
Andrade voicing his affection for Nazis in a hotel room paid for by TPUSA to is the latest revelation of disturbing behavior tied to the right-wing youth group. A December New Yorker piece found that one former top TPUSA staffer wrote in a text, "I HATE BLACK PEOPLE," while a report from the SPLC found ties between the youth organization and prominent white supremacist figures and groups.
A recent HuffPost report by Ashley Feinberg also detailed how the educational nonprofit has a track record for hiring staff members who publicly express their racist views, including one top staffer, Shialee Grooman, who frequently used the N-word on Twitter and said, "if you're a race other than white I promise to make racist jokes towards you."
According to the same sources who detailed Andrade and Subervi's ties to TPUSA, Grooman is still employed by the nonprofit, despite the comments.
America First Policies and TPUSA did not respond to Mediaite's requests for comment. We will update if and when they do.
UPDATE: The Hill responded to Mediaite after publication, saying, "As soon as The Hill was made aware of this video and the comments made by Mr. Andrade, we are no longer publishing his opinion pieces and are removing his work from our site."
UPDATE: Andrade released a statement on Twitter claiming he was quoting someone else in the video released by Mediaite, rather than personally espousing the views on Nazis:
My statement….. pic.twitter.com/i132gziHxe

— Juan Pablo Andrade (@RealJuanPablo) May 11, 2018
[images via screengrab]
Follow the author on Twitter (@calebecarma).
Have a tip we should know? tips@mediaite.com