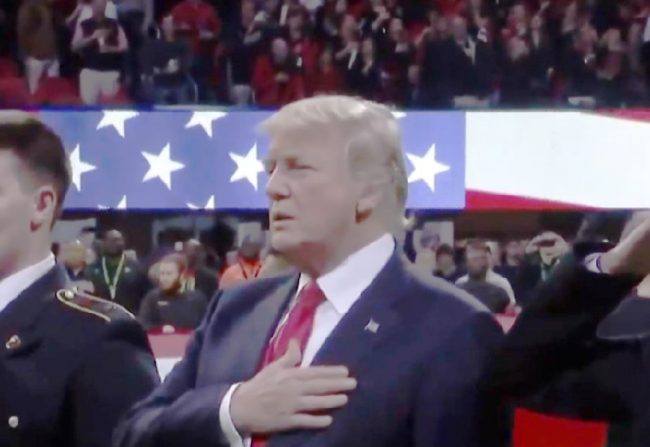 Prior to the start of tonight's college football championship game between Alabama and Georgia, President Donald Trump took to the field to participate in the pregame singing of the national anthem.
Considering that the president has made a really big deal about athletes showing respect during the playing of the Star-Spangled Banner, this presented the opportunity for Trump to stand on a football field, look towards the US flag with his hand on his heart, and sing along confidently as the anthem played.
So, is that what happened tonight? Well, take a look for yourself:
Pres. Trump takes the field for the National Anthem ahead of tonight's college football championship game. https://t.co/JGVhB5xp1A pic.twitter.com/k4lFtrwXzI

— ABC News (@ABC) January 9, 2018
As the video shows, Trump seemed to mouth some of the words to the song, but kept his mouth shut during other parts. With television cameras focused solely on him, and millions viewing around the country, Twitter soon went in on the possibility that the president doesn't actually know the lyrics.
Trump's been trying to get football players fired for kneeling during the National Anthem and this man can't even mumble it on national television right lmfao https://t.co/lW7ytHarLM

— X (@XLNB) January 9, 2018
a hearty fuck you and hahahahaha to every deplorable who has cheered on Trump's whining about the national anthem

— Kaili Joy Gray (@KailiJoy) January 9, 2018
When asked about the national anthem, Trump should say that if Kendrick Lamar can lip-synch badly in public, so can he.

— Charles C. W. Cooke (@charlescwcooke) January 9, 2018
Trump was mouthing some words during parts of the national anthem, but it was unclear what he was saying. He didn't open mouth during other parts.

— Josh Dawsey (@jdawsey1) January 9, 2018
After all that, does Trump even KNOW the words to the national anthem.

Watch and decide for yourself: https://t.co/W2zs2B5nBh pic.twitter.com/AQAS7bLOAp

— Judd Legum (@JuddLegum) January 9, 2018
I would wager that Trump could not sing the national anthem nor recite pledge of allegiance if his life depended on it. He's a phony from his Just For Men weird hairdo to his draft dodging spurred heels. https://t.co/54ABKgBoXE

— John Dean (@JohnWDean) January 9, 2018
Super obvious Trump doesn't know the words to our National Anthem. Disgraceful for any president, but particularly bad given his months of race-baiting rants against NFL players kneeling to demand justice. pic.twitter.com/jUD0hBqo9N

— Kaivan Shroff (@KaivanShroff) January 9, 2018
Trump couldn't even remember the words to the National Anthem tonight. But yeah, there's nothing wrong with his mind. https://t.co/QPhcAJZayO

— John Stable Genius Aravosis (@aravosis) January 9, 2018
Trump not knowing the words to the national anthem exposes his "patriotism" schtick like his "two Corinthians" exposed his biblical hypocrisy.

— Jay Bookman AJC (@jaybookmanajc) January 9, 2018
Seeing Trump sing the National Anthem reminded me of this? https://t.co/cvPWTLghDT

Oh how I love you, @eddieizzard.

— Alyssa Milano (@Alyssa_Milano) January 9, 2018
Trump sings the National Anthem the way everyone sings Bone Thugs n Harmony songs.

— Matt Fernandez (@FattMernandez) January 9, 2018
You know who knows the words to the National Anthem?

Colin Kaepernick.

Trump, you're a disgrace.#NationalChampionship

— Charlotte Clymer?️‍? (@cmclymer) January 9, 2018
President Trump doesn't know the lyrics to the national anthem, part 1 pic.twitter.com/dXY1RJzaUg

— Aaron Rupar (@atrupar) January 9, 2018
"President Trump flawlessly recited the national anthem better than any President ever!" pic.twitter.com/hoYXWsPlRW

— Josiah Johnson (@KingJosiah54) January 9, 2018
Trump really doesn't know the words to the national anthem lmao after all that shit about respecting the flag

— Marcus H. Johnson (@marcushjohnson) January 9, 2018
Oprah knows the words.

— Bill Kristol (@BillKristol) January 9, 2018
[image via screengrab]
—
Follow Justin Baragona on Twitter: @justinbaragona
Have a tip we should know? tips@mediaite.com