'The NFL Needs to… Get the Heck Out of Politics': Texas Gov. Blasts League Over 'Bathroom Bill' Opposition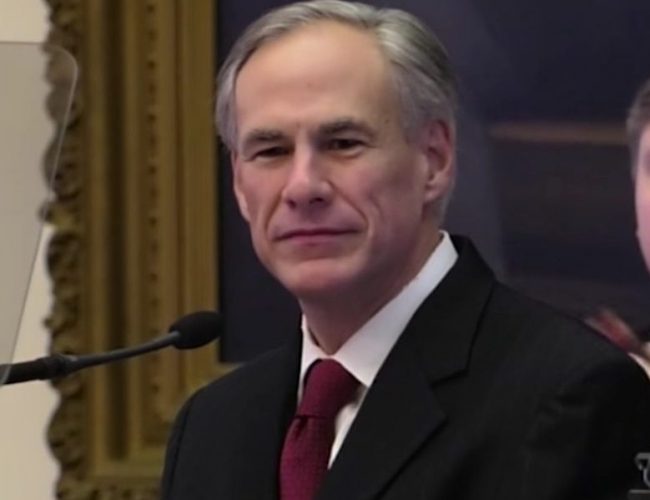 Last week, we posted about the NFL's threat to not award future Super Bowls to the state of Texas if its Senate Bill 6 — commonly known as the "bathroom bill" — were to become law.
In an interview with Glenn Beck on Tuesday, Texas Governor Greg Abbott (R) ripped the NFL for its statements, calling it "unacceptable" for the league to try to meddle in Texas political matters.
"The NFL is walking on thin ice right here," Abbott said. "The NFL needs to concentrate on playing football and get the heck out of politics."
He added, "Who is the NFL — thinking they can tell us what to do politically?"
Abbott took aim at the statement of NFL spokesman Brian McCarthy, who told the Houston Chronicle in an email: "If a proposal that is discriminatory or inconsistent with our values were to become law [in Texas], that would certainly be a factor considered when thinking about awarding future events." Senate Bill 6, which would require transgender people to use the bathroom of the gender stated on their birth certificate, is viewed by many as being anti-LGBTQ.
Abbott said in response:
For some low-level NFL adviser to come out and say that they are going to micromanage and try to dictate to the state of Texas what types of policies we're gonna to pass in our state, that's unacceptable. We don't care what the NFL thinks and certainly what their political policies are because they are not a political arm of the state of Texas or the United States of America. They need to learn their place in the United States, which is to govern football, not politics.
The Governor also criticized the National Anthem protests which were prominent in the early part of the NFL season after San Francisco 49ers quarterback Colin Kaepernick first took a knee during the Anthem to protest racial oppression.
"I cannot name or even count the number of Texans who told me that they were not watching the NFL," Abbott said. "They were protesting the NFL this year because of the gross political statement allowed to be made by the NFL by allowing these players, who are not oppressed, who are now almost like snowflake little politicians themselves unable to take the United States National Anthem being played."
Listen to the complete interview above, via The Glenn Beck Program.
[image via screengrab]
——
Follow Joe DePaolo (@joe_depaolo) on Twitter
Have a tip we should know? tips@mediaite.com
Joe DePaolo - Senior Editor