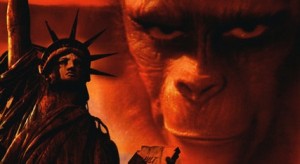 Egyptian President Mohammed Morsi recently sat down for an interview with Time magazine that touched on everything from the recent crisis in Gaza to Morsi's own decree last week giving himself more presidential power over Egypt's independent judiciary. But one of the most striking excerpts of the interview featured the president of Egypt finding an allegory for the peaceful co-existence of human beings in the 1968 sci-fi film Planet of the Apes.
In the interview, Morsi discusses his new role on the world stage and how much he likes Americans and American culture. He spoke of how the media has created a global village, sharing briefly that he used to watch Walter Cronkite and Good Morning America every day. But in the midst of talking about a globally imbalanced economy and how "human beings can live together" in contemporary societies, Morsi brings up the Charlton Heston-starring classic to make his point a little clearer.
I remember a movie. Which one? Planet of the Apes. The old version, not the new one. There is new one. Which is different. Not so good. It's not expressing the reality as it was the first one. But at the end, I still remember, this is the conclusion: When the big monkey, he was head of the supreme court I think — in the movie! — and there was a big scientist working for him, cleaning things, has been chained there. And it was the planet of the apes after the destructive act of a big war, and atomic bombs and whatever in the movie. And the scientists was asking him to do something, this was 30 years ago: "Don't forget you are a monkey." He tells him, "don't ask me about this dirty work,." What did the big ape, the monkey say? He said, "you're human, you did it [to] yourself." That's the conclusion. Can we do something better for ourselves?
Morsi says this encapsulates the "important role of art" for him, also referencing Gone with the Wind and possibly The Dirty Dozen. But whatever you may think of Morsi and the Muslim Brotherhood, the fact that he much prefers the original Planet of the Apes to the remake is already a check mark in the win column.
You can read the full interview, including all the non-Planet of the Apes parts, here.
h/t WaPo
—–
Follow Josh Feldman on Twitter: @feldmaniac
Have a tip we should know? tips@mediaite.com
Josh Feldman - Senior Editor