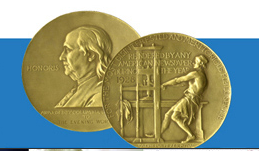 The 2010 Pulitzer Prizes have been announced and no, the National Enquirer did not win for its intrepid reporting of the Edwards's seemingly endless scandals. Here's who did win.
The Washington Post won four awards, the most this year. Kathleen Parker won the award for commentary; Sarah Kaufman won for criticism [dance], a WaPo magazine article by Gene Weingarten that once you read you will not forget won the prize for feature writing, and Anthony Shadid, a, according to the NYT, longtime Iraq correspondent, won for international reporting. Shadid, by the way, now works for the Times, and has previously won the prize for his Iraq coverage in 2004.
The New York Times, meanwhile, picked three prizes (and some thunderous applause). Michael Moss and members of the New York Times staff won the prize for Explanatory Reporting, Matt Richtel and members of the New York Times staff for National Reporting, and Barbara Laker and Wendy Ruderman of the Philadelphia Daily News and Sheri Fink of ProPublica, in collaboration with the New York Times Magazine for Investigative Reporting. The Times notes the award is a "landmark" for ProPublica, a investigative journalism website launched in 2007.
Full list of winners below…you will likely note that in a year during which financial stories took center stage, the WSJ was shut out (again).
• Public Service: Bristol (Va.) Herald Courier

• Breaking News Reporting: The Seattle Times Staff

• Investigative Reporting: Barbara Laker and Wendy Ruderman of the Philadelphia Daily News and Sheri Fink of ProPublica, in collaboration with The New York TImes Magazine

• Explanatory Reporting: Michael Moss and members of The New York Times Staff

• Local Reporting: Raquel Rutledge of the Milwaukee Journal Sentinel

• National Reporting: Matt Richtel and members of The New York Times Staff

• International Reporting: Anthony Shadid of The Washington Post

• Feature Writing: Gene Weingarten of The Washington Post

• Commentary: Kathleen Parker of The Washington Post

• Criticism: Sarah Kaufman of The Washington Post

• Editorial Writing: Tod Robberson, Colleen McCain Nelson and William McKenzie of The Dallas Morning News

• Editorial Cartooning: Mark Fiore, self syndicated, appearing on SFGate.com

• Breaking News Photography: Mary Chind of The Des Moines Register

• Feature Photography: Craig F. Walker of The Denver Post
Have a tip we should know? [email protected]