No Safe Space?: Pro-Trump Graffitti on Free Speech Wall Leads to Greek Week Cancellation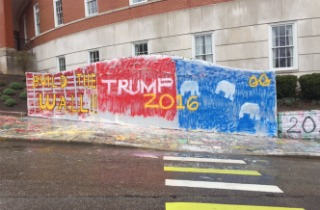 In the latest fit of ultra-sensitivity and rampant political correctness on college campuses, several activities for Ohio University's upcoming Greek Week were suspended indefinitely after pro-Donald Trump messages appeared on campus.
The school's student leaders made their decision after fraternity and sorority organizations found that on-campus members were responsible for spray-painting messages like "Build the Wall" and "Trump 2016" on the school's graffiti wall. The wall is supposed to be dedicated to free speech, but student leaders have cancelled festivities, adjusting the remnants to focus on "fraternal values," and several national Greek organizations are condemning the messages.
"This phrase is offensive and hurtful to many individuals as it is directly tied to the Hispanic/Latino/a community, makes them feel marginalized, and the message was interpreted that they do not belong at Ohio University," said a letter signed and approved by several national Greek organizations, the members of which are, ironically, mostly not Greek at all.
The New York Post reported that The OU Hispanic and Latino Student Union already painted over the wall, and that the people who put up the messages will not be identified or punished by the school. President Roderick McDavis sent out an email on the matter, saying that even though students are free to express themselves "the words painted were troubling because they had a very different meaning to some than they may have to others viewing the message or even to those who painted the message."
This incident comes on the heels of similar incidents where Emory University and University of Michigan students have all raised complaints after being "triggered" by seeing Trump's name on campus.
[h/t Cleveland.com]
[Image via Twitter]
— —
>> Follow Ken Meyer (@KenMeyer91) on Twitter
Have a tip we should know? tips@mediaite.com