This Exists: Massachusetts Murderer Tracked Down By His Obama Bumper Sticker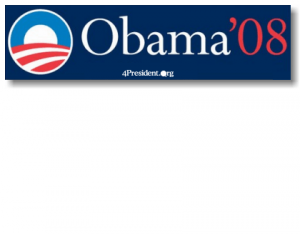 A parolee who stood accused of robbing and then killing a convenience store clerk in 2009 (whilst wearing a hat and woman's wig, because style is important, no matter what your personal and professional aspirations may be) was eventually tracked down by the presence of an "Obama" bumper sticker on his car. "It struck me as odd," said the man's state parole officer, who recognized the description of the getaway car as that of Edward Colriss, who was on parole at the time of the shooting after having served a portion of a life sentence for killing another store clerk in 1971.
"He's a guy from Somerville, so I was surprised he was supporting Obama," shared the parole officer. "I made a joke about it. He said it was on the car when they bought it."
Yeah, I have no idea. I'm fairly unfamiliar and mostly uninterested in anything beyond the two block radius surrounding my apartment, but a helpful Massachusetts native offered a theory as to why Corliss' state parole officer found it odd that his client would be sporting an Obama bumper sticker: "Somerville is a blue collar city north of Boston… and predominantly Democratic" he explained. "But I think the parole guy was hinting on the 'racist' angle." Somerville being, evidently, a predominantly white area. In fact, Wikipedia tells me that the racial makeup of Somerville is about "76.97% White, 6.50% African American, 0.22% Native American, 6.44% Asian, 0.06% Pacific Islander, 4.96% from other races, and 4.85% from two or more races. Hispanic or Latino of any race were 8.76% of the population." Also, there's been a bump in "anti-"yuppie graffiti." So. There's that.
Any residents of the Commonwealth willing to weigh in?
h/t Boston Herald
Have a tip we should know? tips@mediaite.com