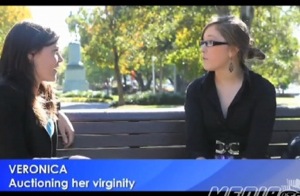 This has all the makings of a great media hoax, though so far, it appears to actually be real. Australian filmmaker Justin Sisley is currently producing a reality TV program that alleges to "sell off" three virgins to the highest bidder. According to a casting notice, the show calls for "our camera (to) follow the principal cast as they shed their virginity to a complete stranger in front of a worldwide audience." The Australian production recently relocated to the state of Nevada, where prostitution is legal.
Yesterday, the NY Post reported:
The three virgins — two women and one man — are to be paid $20,000 each plus 90 percent of their "sale price" to take part in the auction, according to a report in the Sydney Daily Telegraph.

Australian authorities forced Sisley to move production of the show out of the country, threatening to charge him and the virgins with prostitution if they went through with their original plan.
see more videos

But in Nevada, prostitution is legal.

"Technically, I'm selling my virginity for money," a 21-year-old woman named Veronica told the paper.

"Technically, that would be classified as prostitution.

"But it's not going to be a regular thing, so in my head I can justify that I'm not going to be a prostitute," she said. "I don't think I'll regret it."
Reports indicate that Sisley initially planned to produce his show in Melbourne, but that local authorities told him that if he proceeded with filming his controversial show in Australia, he would be arrested. So he moved the show to the state of Nevada, where prostitution is legal in parts of the state.
Filmmakers have set up a website looking for both promotion and new cast members to participate. Unfortunately it appears that one male contestant called "Ben Smith" has dropped out, leaving only "Veronica Peach" as the remaining contestant. An Australian news segment follows, with what appears to be an interview with "Ms. Peach."
Have a tip we should know? tips@mediaite.com
Colby Hall - Founding Editor