'Time to Hunt Some Republicans': Texas Open Carry Group Picks Fights with Lt. Gov.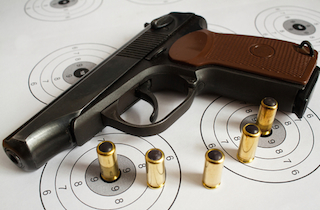 The Tarrant County chapter of Open Carry Texas, which the state organization has all but disowned, made waves on the first days of the Texas session after harassing Democratic lawmakers to the point that the legislature installed panic buttons in the offices.
But that may be nothing compared to the anger the chapter feels at the state's new and very right-wing Lieutenant Governor Dan Patrick, who extinguished hopes for an open carry bill Tuesday.
"Second Amendment rights are very important, but open carry does not reach to the level of prioritizing at this point," Patrick said at Texas Tribune event Tuesday. "I don't think the votes are there."
The comments immediately enraged open carriers, who helped Patrick and Governor Greg Abbott to major victories last fall. The chapter vented on Facebook, using loading language about "hunting down" Republicans who didn't fully support open carry:
Dan Patrick said there is not enough support in the Senate. What?!?!!? Not enough support for the Constitution? The job they swore to uphold? We have 20 Republican Senators. Are they listening to lobbyist and gun organizations who are pro money?…. or the people?

Well, it's time to hunt down the Republicans who don't support the Constitution and the Republican Platform. Then, we will expose them and help them find a new job by making sure they won't have a chance to ever get elected in Texas again. Time to start sending these people to California.
But other gun rights advocates claimed the Tarrant County chapter was the primary part of the problem, with former Land Commissioner (and force behind Texas' concealed carry law) Jerry Patterson saying if gun bills don't pass the legislature it will be "because of the Tarrant County open-carry group's obnoxious behavior."
The Tarrant County chapter lost its state-level support last year after several incidents in which its members entered fast food restaurants and scared the bejeezus out of employees. The move backfired, leading to numerous restaurant chains barring firearms from their stores altogether and even a rebuke from the National Rifle Association.
The chapter then got into a public dispute with the state organization over its antics at the legislature two weeks ago, which Open Carry Texas head CJ Grisham denounced as the legislative equivalent of pooping on the floor. (His analogy.)
Kory Watkins, the head of the Tarrant County chapter, posted the following to his Facebook page today, making a serious case for a constitutional amendment against filming vertically with your smart phone:
[Image via Shutterstock]
——
>> Follow Evan McMurry (@evanmcmurry) on Twitter
Have a tip we should know? tips@mediaite.com