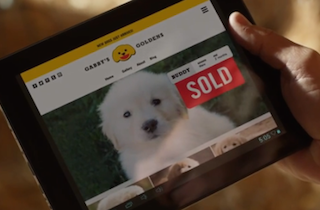 Go Daddy, a domain-name site that made its name with outlandish adveritising, pulled its ad for this year's Superb Owl after it sparked immediate backlash.

The ad was a spoof of the Budweiser Clydesdales/puppy commercial from last year; Go Daddy fired a shot across Budweiser's bow a few days ago concerning the puppy:
Still looking for your dog, @Budweiser? @GoDaddyBuddy can help by building you a website. #bestbuds

— GoDaddy (@GoDaddy) January 23, 2015
In Go Daddy's version, the puppy makes it home in time to be sold on E-Bay. That didn't go over well, with viewers taking to the now-standard social media outlets to denounce the ad. Animal rescue orgs got in on it, too:
If you can buy a puppy online and have it shipped to you the next day, it's likely you're supporting inhumane breeding. #GoDaddyPuppy

— The SPCA (@animalrescuers) January 27, 2015
"The callous, careless and disposable way these animals are portrayed in the GoDaddy commercial shows everything that's wrong with the puppy industry in less than 60 seconds," wrote Animal Cruelty Task Force of Ohio CEO Steffen Baldwin said.
Rumors that jokes are not meant to be taken literally went unconfirmed at press time. Go Daddy CEO Blake Irving relented Tuesday evening, tweeting:
Thank you @animalrescuers for the candid feedback. What should have been a fun and funny ad clearly missed the mark and we will not air it.

— Blake Irving (@Blakei) January 27, 2015
"This morning we previewed GoDaddy's Super Bowl spot on a popular talk show, and shortly after a controversy started to swirl about Buddy, our puppy, being sold online," the company's the company wrote. "The responses were emotional and direct. Many people urged us not to run the ad…. The net result? We are pulling the ad from the Super Bowl. You'll still see us in the Big Game this year, and we hope it makes you laugh. Finally, rest assured, Buddy came to us from a reputable and loving breeder in California. He's now part of the GoDaddy family as our Chief Companion Officer and he's been adopted permanently by one of our longtime employees."
Go Daddy pulled the video from YouTube, but you can it below:
[h/t USA Today]
[Image via screengrab]
——
>> Follow Evan McMurry (@evanmcmurry) on Twitter
Have a tip we should know? tips@mediaite.com