Tom Ricks Disputes Fox Exec's Claim He Apologized For Testy Benghazi Interview That Was Cut Short
Tom Ricks Disputes Fox Exec's Claim He Apologized For Testy Benghazi Interview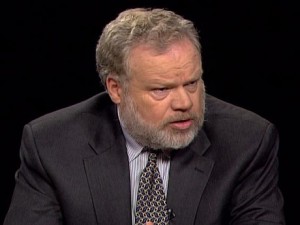 Tom Ricks made headlines on Monday when he went on Fox News to discuss the attack in Benghazi and blatantly criticized the network for "hyping" the issue and operating as "a wing of the Republican Party." It would appear that Ricks and the network are still at odds — as he denied a report stating he apologized for the interview afterward.
RELATED: Fox Interview Ends After Guest Accuses Network Of Operating As 'Wing Of The Republican Party'
In an email to The Hollywood Reporter, Fox News' Executive Vice President Michael Clemente said, "When Mr. Ricks ignored the anchor's question, it became clear that his goal was to bring attention to himself — and his book. He apologized in our offices afterward but doesn't have the strength of character to do that publicly."
Ricks didn't have the same story. While, in an interview with POLITICO, he noted seeing "surprised faces" and said he was deemed "rude" by a staffer, Ricks said he never apologized.
"Please ask Mr. Clemente what the words of my supposed apology were. I'd be interested to know," he said in an email to The Hollywood Reporter. "Frankly, I don't remember any such apology."
Ricks' interview with Fox News' Jon Scott ended abruptly on Monday, after less than two minutes, when he took open swipes at the network. "I think Benghazi was generally hyped by this network especially," he said — later adding, "I think the emphasis on Benghazi has been extremely political, partly because Fox is operating as the wing of Republican Party."
UPDATE: Via TVNewser, Clemente has responded to Ricks' response to Clemente. In essence, Clemente said Ricks is lying about never apologizing to Fox:
"I'm surprised by the General's utter dishonesty," Clemente says. "I'll refresh his memory – what he said following the segment was, 'Sorry… I'm tired from a non-stop book tour.' Perhaps now he can finally get some rest."
Have a tip we should know? tips@mediaite.com