Trump Panned For Apparently Skipping Arlington Visit on Veterans Day: 'What a POS'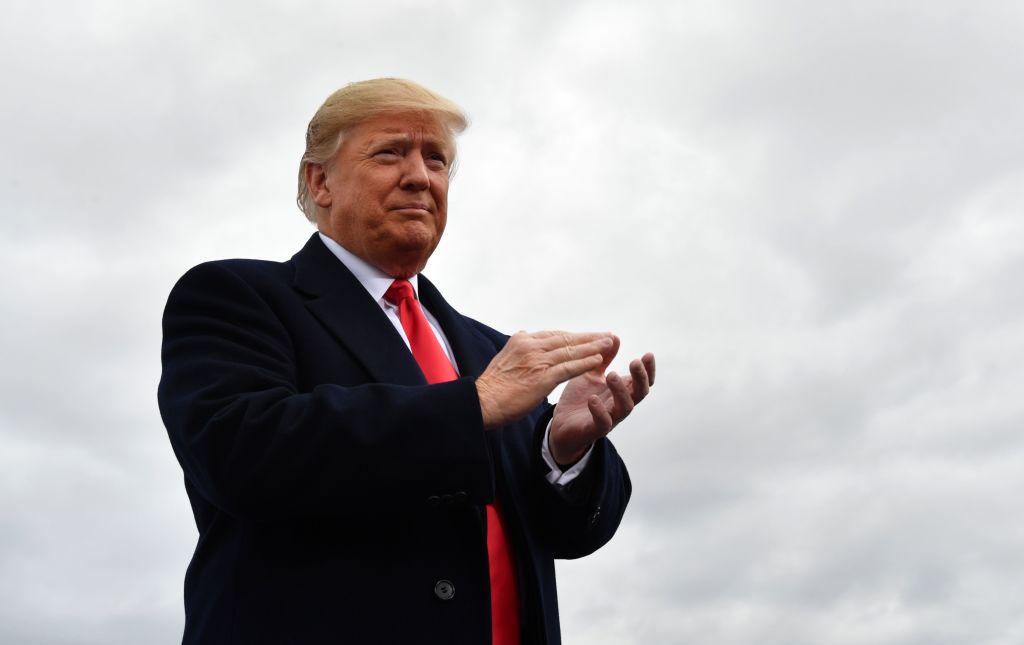 President Donald Trump is facing criticism regarding his apparent decision to not make the trip to Arlington National Cemetery to honor fallen soldiers on Veterans Day.
The president's schedule has no events listed and, according to the Washington Post's Josh Dawsey, a press lid was called at 10 a.m. — meaning Trump will not be leaving the White House after that time.
A lid at 10 AM. Trump will have no movements today, per White House.

— Josh Dawsey (@jdawsey1) November 12, 2018

The move came days after Trump called off a previously scheduled commemorative event at a World War I battlefield cemetery in France due to rain, drawing a backlash.
Previous presidents have made a point of speaking at Arlington on Veterans Day when they are in Washington D.C. for it. Former President Bill Clinton did so for the eight years of his presidency, and Barack Obama did so for six — with Vice President Joe Biden speaking there twice. Members of the media took to Twitter to respond to the current commander-in-chief's decision to skip out on the tradition.
A year ago, Trump was on foreign travel and Pence spoke in his place. Generally, the president makes a veterans day speech at Arlington if he is in DC. Clinton did all 8 years. full list –> https://t.co/ECrlFmWL8D https://t.co/g4RhyHgpjX

— Glenn Kessler (@GlennKesslerWP) November 12, 2018
No Arlington Cemetery on Veterans Day. https://t.co/WDSAkZpIe7

— lori montgomery (@loriamontgomery) November 12, 2018
When was the last time a president skipped an appearance at Arlington or any other outward demonstration of honoring Veterans Day? https://t.co/Wd6GjMqXP4

— Greg Miller (@gregpmiller) November 12, 2018
Too windy to visit Arlington https://t.co/Q2NSVvzy34

— David S. Joachim (@davidjoachim) November 12, 2018
Trump will not visit Arlington National Cemetery as the country observes Veterans' Day https://t.co/nTlcbYlaaR

— Emily C. Singer (@CahnEmily) November 12, 2018
Arlington National Cemetery is open and just a short drive from the White House https://t.co/r1ndcVLdOL

— Ron Fournier (@ron_fournier) November 12, 2018
as the country observes Veteran's Day, it appears POTUS will not visit arlington national cemetery. https://t.co/lw5OH34jX0

— kelly cohen (@politiCOHEN_) November 12, 2018
i like presidents who honor the fallen at arlington national cemetery on veterans day pic.twitter.com/UzDmVvndAf

— Oliver Willis (@owillis) November 12, 2018
No visit to Arlington Cemetery? Unprecedented? What a POS https://t.co/6dyCZ0ietL

— Andrea Stone (@andreastonez) November 12, 2018
It's Veterans Day.

Arlington Cemetery is a 10 min drive from WH. Walter Reed is 15, or helicopter. There are countless military bases, active duty personnel, and their families within an hour or so.

The President won't see any of them. https://t.co/VMmN3CBu1U

— Molly McKew (@MollyMcKew) November 12, 2018
Trump won't be leaving the White House today, per press office. No visit to Arlington National Cemetery on Veterans Day.

— Philip Crowther (@PhilipinDC) November 12, 2018
No observance of Veterans Day? Is it not traditional for Presidents to lay a wreath at the Tomb of the Unknown Soldiers at Arlington on this day? I'm looking at coverage of Obama, Bush…https://t.co/9bip3rfztJ https://t.co/7V1W0UWMcj

— Carla Marinucci (@cmarinucci) November 12, 2018
After canceling his visit to an American military cemetery outside of Paris this weekend, kinda nuts of Trump not to go to Arlington Cemetery today.

What gives?

— Kate Brannen (@K8brannen) November 12, 2018
Have a tip we should know? tips@mediaite.com