Trump Questions Women's Marchers: 'Why Didn't These People Vote?' (They Definitely Did)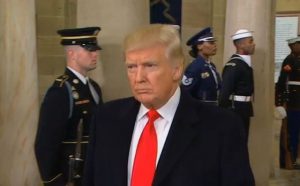 In keeping with the long and storied tradition in presidential history, President Donald J. Trump awoke this morning and Tweeted a sarcastic reply to the news reports of the Women's March on Washington and its coordinated efforts around the country.
Watched protests yesterday but was under the impression that we just had an election! Why didn't these people vote? Celebs hurt cause badly.

— Donald J. Trump (@realDonaldTrump) January 22, 2017
"I was under the impression that we just had an election!" he wrote with presumed derision about the millions of Americans who marched on Saturday as part of the Women's March. "Why didn't these people vote?"
Of course, the reality of the situation is that the scores of Americans who showed up to protest this weekend — with early estimates of 500,000 in Washington, 750,000 in Los Angeles, and 250,000 in Manhattan — did in fact vote during the general election, and widely handed the popular vote win to former Secretary of State Hillary Clinton.
While voting for Clinton wasn't a prerequisite for the Women's march of course, the palpable support for the Democratic candidate was felt nationwide. Clinton received 2,864,974 more votes on November 8th than Trump, marking 2.1 percent of the total vote; it is one of the steepest discrepancies in electoral college political history between raw vote winner and election victor.
The fact that President Trump actually lost the popular vote seems to be something that has personally plagued the 45th Commander in Chief; he recently made commentary to suggest that the goal of his 2020 reelection campaign would be to win "the old fashioned way," alluding to the fact that he knows he won… but with an asterisk. Recently, several of his former biographers suggested to POLITICO that he has a "deep fear" that his Presidency is not legitimate due to the political vote outcome.
UPDATE –– 9:43 am ET: Trump followed up with this tweet:
Peaceful protests are a hallmark of our democracy. Even if I don't always agree, I recognize the rights of people to express their views.

— Donald J. Trump (@realDonaldTrump) January 22, 2017
—
J.D. Durkin (@jivedurkey) is an editorial producer and columnist at Mediaite.
This is an opinion piece. The views expressed in this article are those of just the author.