Twitter Had a Field Day With Rob Ryan's Utterly Insane Look: 'Like He Washes His Hair…in Bong Water'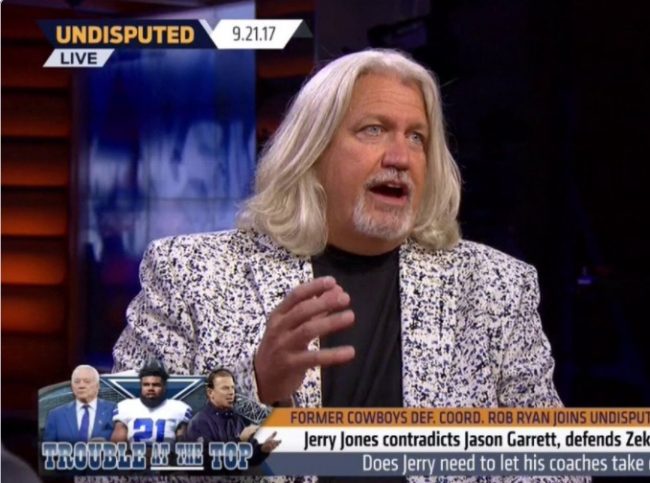 After 17 years as a defensive coordinator in the NFL for seven different teams, Rob Ryan is out of the league this season for the first time since 1999.
No longer sporting team-issued garb, Ryan apparently felt liberated to dig into the very back of his closet to drudge up the absolute monstrosity of a jacket seen above. It's an ensemble that the great retired coach and broadcaster John Madden would call Ryan's "give-ups" — an indication that he simply does not care about public perception of his look.
Whether he cares or not, Ryan certainly wasn't going to stop people from weighing-in on this hideousness. Twitter stepped up to the plate in a big way, and had this to say about Ryan-chic
Rob Ryan is the bad guy in a Blades Of Glory sequel pic.twitter.com/I5Ui4Ijmcv

— Dave Lozo (@davelozo) September 21, 2017
Rob Ryan, or that guy who runs the orgasm retreat for couples on a 1997 episode of HBO'S REAL SEX. pic.twitter.com/jtcEfPBlXB

— Greg Wyshynski (@wyshynski) September 21, 2017
Rob Ryan is still holding out hope for a spot in The Fabulous Freebirds. pic.twitter.com/TBETr6KJOq

— Marcus Vanderberg (@marcowill) September 21, 2017
Can't wait to see Rob Ryan taking over for David Bowie as the Goblin King in the Labyrinth sequel. pic.twitter.com/cqtMAj1XLI

— Sam Vecenie (@Sam_Vecenie) September 21, 2017
Rob Ryan out here looking like he just won the Florida lottery. pic.twitter.com/ARfeJd5cnb

— Dieter Kurtenbach (@dkurtenbach) September 21, 2017
rob ryan this close to telling us he's starlord's real father in the next guardians of the galaxy movie pic.twitter.com/K7IZkFvP6U

— martin rickman (@martinrickman) September 21, 2017
Rob Ryan's out here looking like he has a windowed office above a strip club floor. pic.twitter.com/eHNcMhFe9L

— Dieter Kurtenbach (@dkurtenbach) September 21, 2017
Rob Ryan actually chose this getup for TV. Out here like Diamond Dallas Page after an allergic reaction to shellfish. pic.twitter.com/1OHi3oqxiW

— Tom Mantzouranis (@themantz) September 21, 2017
BREAKING: Rob Ryan leaves football behind to pursue his dream of being the lead singer of an 80's rock ballad cover band. pic.twitter.com/u1dlKYgXRj

— Karisa Maxwell (@KarisaMaxwell) September 21, 2017
Rob Ryan looks like he's trying to sell you bootleg VHS tapes out of his trunk in a Walmart parking lot pic.twitter.com/LRuGEK3VMV

— 12up (@12upSport) September 21, 2017
Rob Ryan out here looking like Trump's doctor. pic.twitter.com/yehOAWlZ01

— Cory Gunkel (@CoryGunkel) September 21, 2017
Rob Ryan is a televangelist preaching the obesity gospel pic.twitter.com/jCp85s9TH1

— Clue Heywood (@ClueHeywood) September 21, 2017
Rob Ryan looks like he washes his hair in dish soap and bong water pic.twitter.com/hfA40pdyDD

— Dennis Adams (@AdamsStrength) September 21, 2017
[image via screengrab]
——
Follow Joe DePaolo (@joe_depaolo) on Twitter
Have a tip we should know? tips@mediaite.com
Joe DePaolo - Senior Editor