Twitter Reacts to Michelle Wolf's 'Hateful' Monologue: 'I Don't Think We Advanced The Cause of Journalism'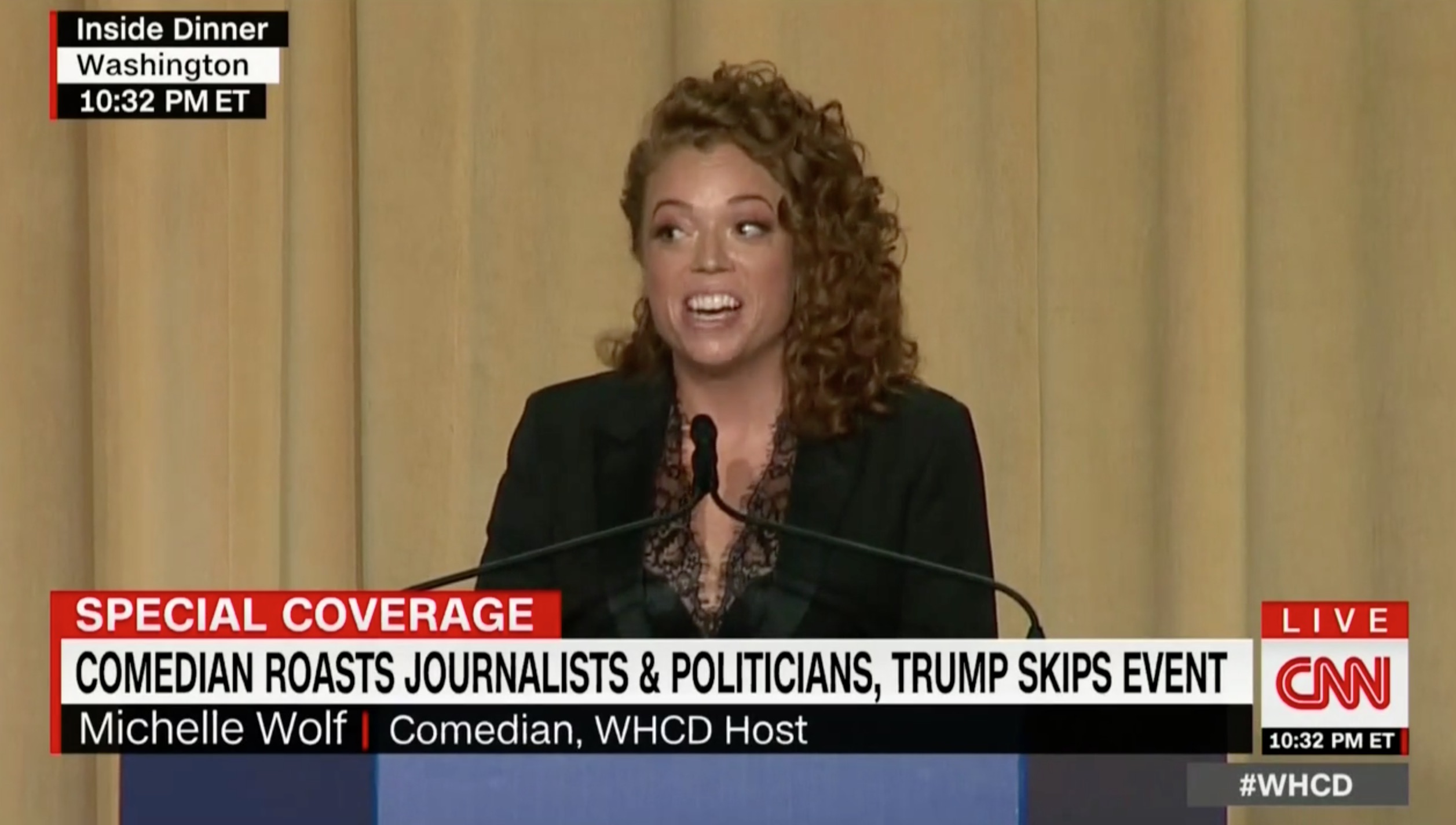 Twitter had A LOT to say about Michelle Wolf as the host of the White House Correspondents' Dinner.
Wolf was criticized by both mainstream and conservative media for her "hateful and unfunny" monologue.
Michelle Wolf is about as funny as stomach cancer. My goodness.

— Ben Shapiro (@benshapiro) April 29, 2018
Hateful and unfunny.

Mocking a woman for her appearance? I guess that counts as woke now—just as long as she isn't progeessive. Or thin. https://t.co/FjgeIcc79J

— Terry Moran (@TerryMoran) April 29, 2018
Michelle Wolf is what happens when the Left loses its capacity for comedy. They have nothing but hackneyed insults and late night tears because the President is much funnier than they are! #WHCD

— Michael Knowles (@michaeljknowles) April 29, 2018
Some good lines. And I'm very willing to laugh at brutal jokes. I did. Some of the personal attacks on Sarah Sanders were unfunny & would never EVER be told about a Democrat in her position. Also, if you're going to make abortion jokes, make them close to funny ? gross. #WHCD

— Guy Benson (@guypbenson) April 29, 2018
Several reporters thought this year's WHCD didn't "advance the cause of journalism" and it "undermined" what should have been a "meaningful night." Others praised Press Secretary Sarah Huckabee Sanders for stomaching the brutal jokes that were said about her.
If the #WHCD dinner did anything tonight, it made the chasm between journalists and those who don't trust us, even wider. And those of us based in the red states who work hard every day to prove our objectivity will have to deal with it.

— Meg Kinnard (@MegKinnardAP) April 29, 2018
Unfortunately, I don't think we advanced the cause of journalism tonight.

— Peter Baker (@peterbakernyt) April 29, 2018
Couldn't agree more. So much important and amazing journalism this year — that should be the focus, when truth matters and is needed more than ever. It was an embarrassment in the room and surely to the audience at home. https://t.co/vhbnG6tn55

— Jeff Zeleny (@jeffzeleny) April 29, 2018
Michelle Wolf didn't fail just because she was (spectacularly) one-sided. It was because she was unnecessarily cruel on a night the WHCA was trying to showcase decency and purpose.

Undermined an otherwise meaningful night.

— Kyle Cheney (@kyledcheney) April 29, 2018
That @PressSec sat and absorbed intense criticism of her physical appearance, her job performance, and so forth, instead of walking out, on national television, was impressive.

— Maggie Haberman (@maggieNYT) April 29, 2018
Dear @PressSec – it took a lot of dignity, guts, and class to sit through what you did tonight. You personified professionalism. Thank you. pic.twitter.com/4XsjCx8DQB

— Brad Thor (@BradThor) April 29, 2018
The spirit of the event had always been jokes that singe but don't burn. Reporters who work with her daily appreciate that @presssec was there. https://t.co/PorH9jGJ7G

— Kelly O'Donnell (@KellyO) April 29, 2018
.@PressSec Sarah is all class and the definition of strength compassion confidence and competence. She is a role model for handling nonsense and snark.

— Anthony Scaramucci (@Scaramucci) April 29, 2018
Former Press Secretary Sean Spicer called it a "disgrace" while Matt Schlapp and his wife Mercedes Schlapp, who serves as the White House Director of Strategic Communications, walked out during Wolf's monologue.
Tonight's #WHCD was a disgrace

— Sean Spicer (@seanspicer) April 29, 2018
My wife @mercedesschlapp and I walked out early from the wh correspondents dinner. Enough of elites mocking all of us

— Matt Schlapp (@mschlapp) April 29, 2018
[image via screengrab]
Have a tip we should know? tips@mediaite.com