Twitter Reacts To Trump Saying Howard Schultz 'Doesn't Have the Guts' to Challenge Him in 2020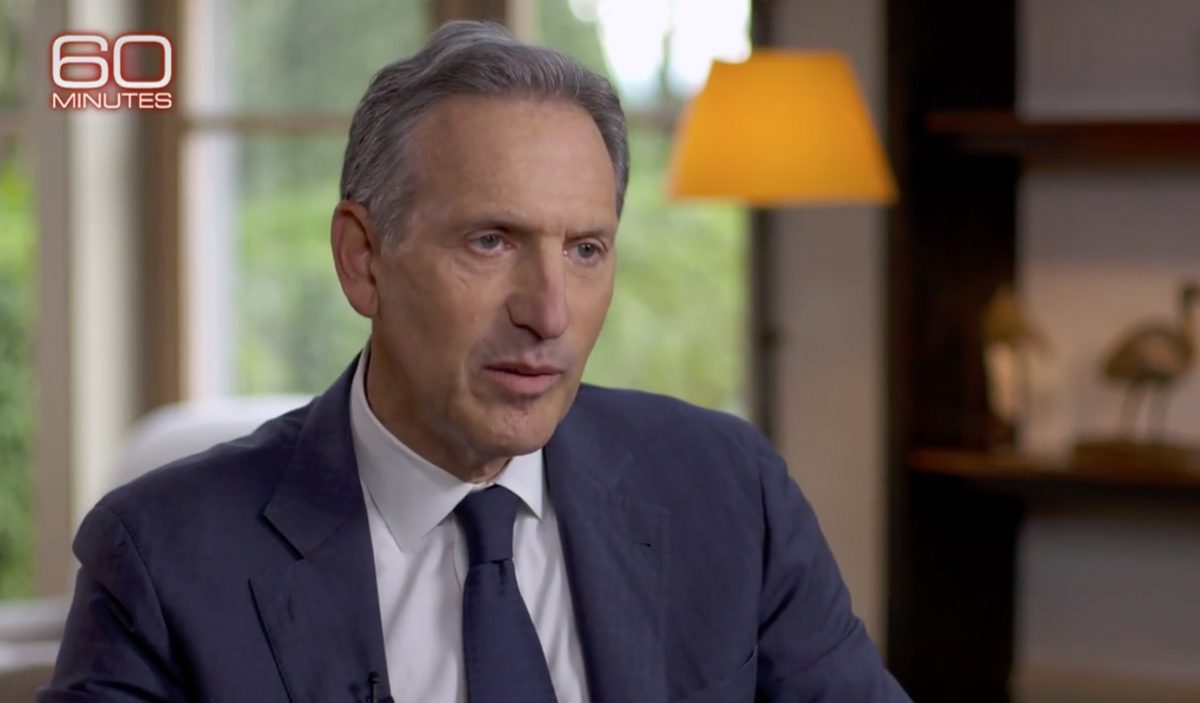 The Twitterverse has a few things to say about President Donald Trump calling out Howard Schultz on Monday as the former Starbucks CEO mulls over a run for president in 2020.
In his latest proclamations on Twitter, Trump made it clear he wasn't impressed with the interview Schultz did for 60 Minutes on Sunday.
Howard Schultz doesn't have the "guts" to run for President! Watched him on @60Minutes last night and I agree with him that he is not the "smartest person." Besides, America already has that! I only hope that Starbucks is still paying me their rent in Trump Tower!

— Donald J. Trump (@realDonaldTrump) January 28, 2019
Throughout the interview, Schultz said he was thinking about running for the Oval Office as a "centrist independent," outside the two-party system and the current course of "revenge politics."
As for Trump's line about Schultz not being the "smartest person," here's what Schultz said in full context.
"I have a long history of recognizing, I'm not the smartest person in the room, that in order to make great decisions about complex problems, I have to recruit and attract people who are smarter than me and more experienced, more skilled."
In any event, Trump's tweet is drawing attention for a multitude of reasons. Some see it as Trump goading Schultz to jump in, presumably because it will take away Democratic votes against him.
Trump might as well be begging Schultz to get in. https://t.co/DlyApCa6PF

— Aaron Blake (@AaronBlake) January 28, 2019
You're a sad sack of White Supremacy. You've stained the heart & soul of America. Your shit strategy is so damn obvious. Baiting Schultz into a race you're assured to lose unless an independent helps split the democratic vote. Your only shot if you somehow survive impeachment. https://t.co/UtSyXr1Zto

— Morgan J. Freeman (@mjfree) January 28, 2019
Pres trying reverse psychology on Howard Schultz. Trump would benefit if an Independent drew votes away from the Democratic nominee. https://t.co/Tu58p8U8TJ

— Mark Knoller (@markknoller) January 28, 2019
This feels like a triple dog dare. https://t.co/ubC5f3mMi9

— Steve Peoples (@sppeoples) January 28, 2019
Others focused on the Trump Tower portion of Trump's tweet, saying its an open question whether the president has truly separated himself from his former business interests.
The President of the United States — who still profits from his private company in office — just called out a major U.S. corporation and said they better keep putting money in his pocket.

This is unheard of. https://t.co/uSsaqhmthb

— Robert Maguire (@RobertMaguire_) January 28, 2019
Among other things happening in this tweet, notice how the president says "paying me" about the company he supposedly stepped away from https://t.co/I0L2miKc0g

— Chris Megerian (@ChrisMegerian) January 28, 2019
Jan. 2017: "President-elect Trump wants there to be no doubt in the minds of the American public that he is completely isolating himself from his business interests." https://t.co/2q6r1gUre4

Jan. 2019: "I only hope that Starbucks is still paying me their rent in Trump Tower!" https://t.co/NifdBUpb5v

— Steve Reilly (@BySteveReilly) January 28, 2019
In other words, Trump is proud to have guts, brains and the ability to collect rent at Trump Tower. https://t.co/Q7yWnA6T9t

— Jim Roberts (@nycjim) January 28, 2019
And then, there were others who asked if Trump is calling himself the smartest person in America.
American already has the not smartest person, admits area moron. https://t.co/KUaeQSSwXQ

— Kaili Joy Gray (@KailiJoy) January 28, 2019
In which the president said he is the smartest man https://t.co/U0sT2ysHmi

— Chris Cillizza (@CillizzaCNN) January 28, 2019
In Trump's assumption, the "smartest person" is the one who says "I have a very good brain". https://t.co/S2k93fMs9g

— Morten Øverbye (@morten) January 28, 2019
Is he… Is he saying America already has a dumb person for president? https://t.co/9UlB2keAAU

— Jared Rizzi (@JaredRizzi) January 28, 2019
— —
>> Follow Ken Meyer (@KenMeyer91) on Twitter
Have a tip we should know? tips@mediaite.com