Twitter Revolts Against Neil deGrasse Tyson's Star Wars: The Force Awakens Rant
Twitter Revolts Against deGrasse Tyson's
Star Wars Rant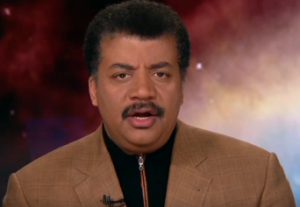 Celebrity astrophysicist Neil deGrasse Tyson continued his Twitter tradition of tweeting observations on the latest science fiction film with Star Wars: The Force Awakens. Unsurprisingly, his nitpicking was met with a great deal of irritated sarcasm from fellow Internet trolls.
Most of what Tyson had to say about the film was humorous in nature. For example, his first tweet poked fun at the dueling lightsaber colors of blue and red, and how these mirror the Democratic and Republican parties in American politics.
Or his opinion that, almost 30 years on, stormtroopers still run "as though they're carring a full load of poop in their diapers." Whatever that means…
But it wouldn't be a Neil deGrasse Tyson Twitter rant if science wasn't involved. And not just science, but science employed to point out how impossible certain things are — even though the subject as a fictional film combining science fiction and fantasy.
Needless to say, Tyson's latest screed met with a great deal of opposition.
Even the official Star Wars Twitter account chimed in with its own "well actually" for one of Tyson's complaints.
[Image via screengrab]
— —
>> Follow Andrew Husband (@AndrewHusband) on Twitter
Have a tip we should know? tips@mediaite.com