Twitter Ridicules Trump After He Takes Credit for Global Air Travel Safety: 'Unbelievably Stupid'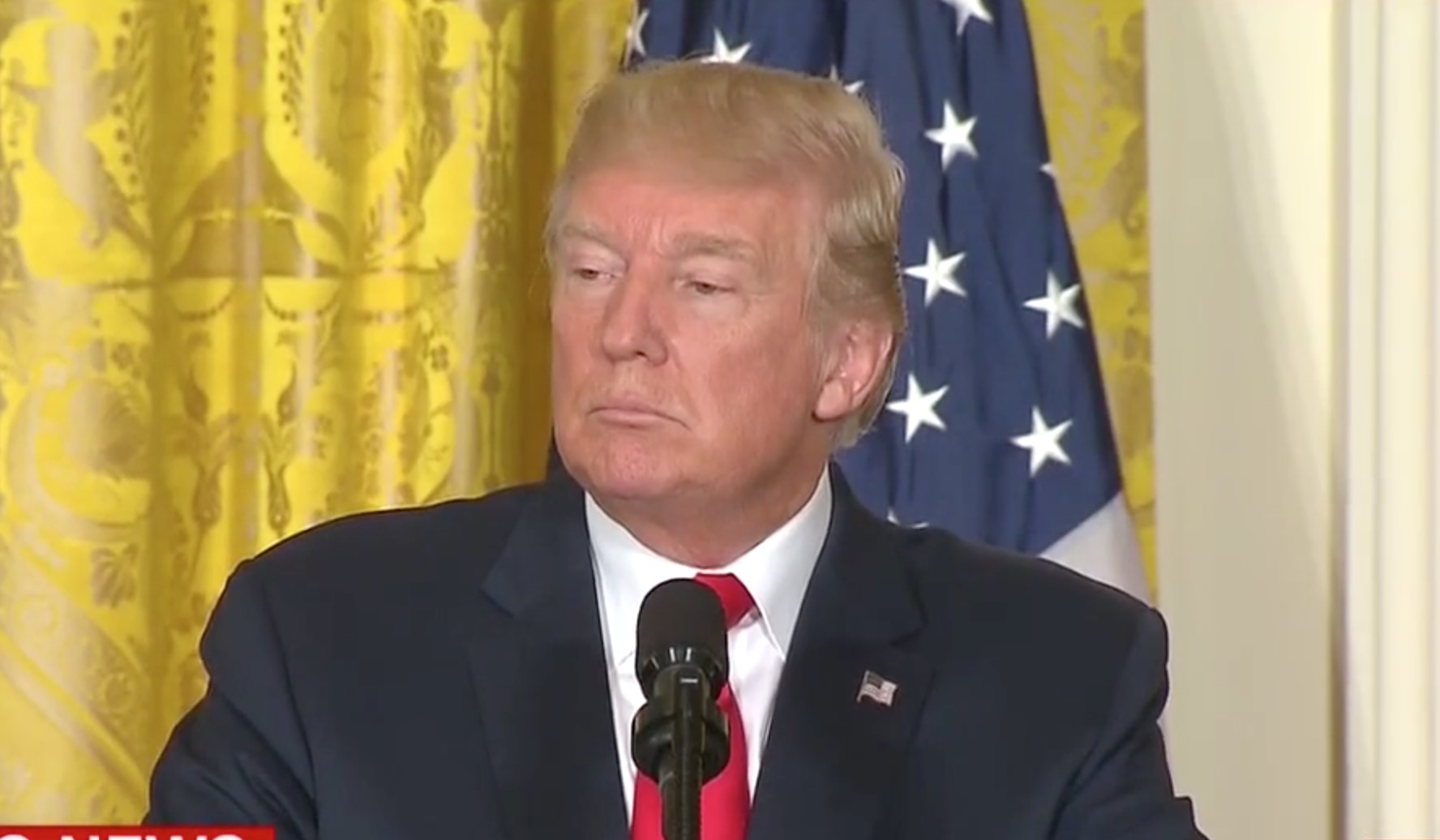 President Trump had a very active morning on Twitter today, and at one point, he decided to take credit for ensuring global air traffic's safest year ever.
Since taking office I have been very strict on Commercial Aviation. Good news – it was just reported that there were Zero deaths in 2017, the best and safest year on record!

— Donald J. Trump (@realDonaldTrump) January 2, 2018
The Aviation Safety Network recently released a report noting that there were no reported deaths on any commercial flights anywhere around the world last year. It is worth noting, however, that there hasn't been a single fatal commercial airline crash in the United States since early 2009.
The Hill reports that the president tried to launch an initiative to privatize air-traffic control, though it stalled in Congress, and it isn't clear what else he has done for airline safety legislation. As such, plenty of people are mocking Trump by asking how exactly he contributed, noting what else he can take credit for, and also slamming him for claiming without evidence that a global achievement was all his doing.
"Very strict on Commercial Aviation."

What does this even mean? What, if anything, has he done?There hasn't been a deadly scheduled airline crash in the US since 2009. The 2017 news is a global achievement. https://t.co/phS2xs86hC

— Jason Rabinowitz (@AirlineFlyer) January 2, 2018
Yes, this is unbelievably stupid, but also one of his most telling tweets. He's taking credit for literally nothing. 1/ https://t.co/AuXdZI0lBQ

— Jared Yates Sexton (@JYSexton) January 2, 2018
BUCKHANNON, W.V. — The coal mines haven't quite reopened, but here in this small West Virginia town, voters see real progress a year into Donald Trump's presidency.

"He's been very good on commercial aviation," says Chuck Stub, 54, an out-of-work Trump voter. "Very strict." https://t.co/YiHapD5Osv

— Matt Fuller (@MEPFuller) January 2, 2018
He made commercial aviation sit in the corner once for a whole hour. https://t.co/rtJAwcaxem

— Jay Caruso (@JayCaruso) January 2, 2018
We had no gas explosions in our house this year. Thank you, Mr. President, for your hands-on leadership of FERC. https://t.co/cquNwtlSuw

— Charles C. W. Cooke (@charlescwcooke) January 2, 2018
If only you'd gotten "very strict" on mass shootings. 2017 was the worst and deadliest year on record. PS. If you can't be blamed for that, you can't take credit for this. https://t.co/JPrLBz7n8o

— James Morrison (@JamesPMorrison) January 2, 2018
"My father would womanize, he would drink, he would make outrageous claims like he invented the question mark. Some times he would accuse chestnuts of being lazy, the sort of general malaise that only the genius possess and the insane lament." https://t.co/skM1Y2Szjj

— Jesse Ferguson (@JesseFFerguson) January 2, 2018
12 people, including 10 Americans, killed in Costa Rican plane crash within past 48 hours. https://t.co/eXvS6Xq7Br Not a regularly scheduled flight, but dead all the same. Trump's boast is not only stupid, but heartless https://t.co/N6gKcjtw01

— David Frum (@davidfrum) January 2, 2018
This is as ridiculous as Al Gore inventing the internet https://t.co/JzxP0yKrIW

— Ben Shapiro (@benshapiro) January 2, 2018
Since taking office I have been very strict on dragons. Good news — it was just reported that there were Zero deaths from dragon breath in 2017, the best and safest year on record! https://t.co/8HIiamb5HO

— Ian Millhiser (@imillhiser) January 2, 2018
My pilot over Thanksgiving was about to nosedive into the Potomac, but remembered Trump would be mad at him. https://t.co/xh15B14fI6

— Alex Griswold (@HashtagGriswold) January 2, 2018
It is a little known fact that all commercial pilots and air traffic controllers are now told, when they come on duty, that Donald Trump is the president and they need to be extra primo careful. Narcissism is too gentle a word; this stuff is batshit crazy. https://t.co/D7zHv0oTKw

— David Simon (@AoDespair) January 2, 2018
Other 2017 things for which Trump deserves credit:

– 0 asteroid strikes
– Mind-flayer defeated
– Taylor Swift's year
– D̶i̶d̶n̶'̶t̶ ̶l̶o̶o̶k̶ ̶d̶i̶r̶e̶c̶t̶l̶y̶ ̶i̶n̶t̶o̶ ̶e̶c̶l̶i̶p̶s̶e̶
– "Merry Christmas"
– Adorable kids interrupting BBC interview
– Bob Dylan still alive
– pic.twitter.com/GECzac40Bc

— Radley Balko (@radleybalko) January 2, 2018
UPDATE – 11:50 a.m. EST: White House deputy press secretary Raj Shah had this to say about Trump's tweet:
White House principal deputy press secretary @RajShah45 offers the following context for the President's tweet on commercial air travel this morning pic.twitter.com/eh1VAHrVPS

— Betsy Klein (@betsy_klein) January 2, 2018
[Image via screengrab]
— —
>> Follow Ken Meyer (@KenMeyer91) on Twitter
Have a tip we should know? tips@mediaite.com