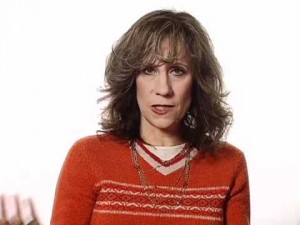 A vomitous human being.
This is really the only way to describe one Lizz Winstead, the co-creator of Comedy Central's The Daily Show. She's also the author of following tweet that went out to her 75,000 followers not long after a two-mile-wide tornado destroyed the town of Moore, Oklahoma. Among the 51 dead (the death toll as of 11:40 PM EST Monday) are a reported 20 children–many of whom died at an Elementary School in town–along with mothers, fathers, whole families. Some may be buried alive.

The IRS targeted conservatives. God is doing the same with this tornado.
Get it?
Hilarious.
And Winstead isn't just some dumb teenager who made a dumb decision to type first and think later. She's at the advanced age of 52, and being involved in television at a high level for years, she must have learned by now that natural disasters don't mix well with humor. The tweet is also complete with 36 people who actually favorited said tweet.
Other tornado tweets from Winstead (before the one above) include: "How long has Obama known about this tornado?" and "Tornado just bumped me from MSNBC" #Benghazi
Only hours later, well after multiple reports came in about the dozens dead, and only after pictures showed just how widespread the devastation was, did Winstead decide to apologize.
"Made a political joke, Twas before devastation revealed"
Right. Because, you know, tornadoes usually don't kill people or destroy lives or anything. And since her precious spot on MSNBC was bumped, did it ever occur to the brains behind The Daily Show that this may not be just another random twister?
If the powers that be at MSNBC were wise, they would bump Winstead from the network permanently.
As for Winstead's assertion that she didn't know the extent of the devastation, it should be noted she's from Minnesota, a state that borders Tornado Alley in the Central Plains and has had its share of deadly tornadoes through the years itself. That said, she knew damn well what kind of result could occur after this kind of event.
But ideology, hate and self-absorption all combined can be blinding. Liberal, conservative… doesn't matter. If the opportunity is there to take a shot at what is seen as the opposition, little things like tornadoes shouldn't get in the way.
Lizz Winstead has been tweeting out different charities for victims since being taken to the woodshed by both sides of the aisle Monday afternoon and evening.
But it's not because she cares about the people of Moore.
She only cares about her reputation.
The ability to earn.
More guest spots on TV to share political perspective.
Lizz Winstead.
Truly a vomitous human being…
Follow Joe Concha on Twitter @Conchsports
Have a tip we should know? tips@mediaite.com