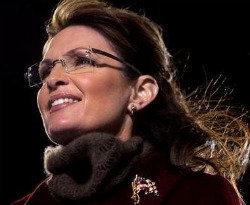 The Washington Post's Dana Milbank is considering a self-imposed hiatus from all things Sarah Palin after being concerned that he's written no less than 42 columns on the former governor since 2008, when Sen. John McCain picked her to be his presidential running mate. Psshhh. We've written 42 articles on Palin in a day.
What's more, Milbank is calling on others in the media to resist covering every word, move, clothing purchase and accusations of blood libel made by Wasilla's most famous export:
I feel powerless to control my obsession, even though it cheapens and demeans me.

But today is the first day of the rest of my life. And so, I hereby pledge that, beginning on Feb 1, 2011, I will not mention Sarah Palin – in print, online or on television – for one month. Furthermore, I call on others in the news media to join me in this pledge of a Palin-free February. With enough support, I believe we may even be able to extend the moratorium beyond one month, but we are up against a powerful compulsion, and we must take this struggle day by day.
What makes any individual "newsworthy" is certainly a matter of opinion, but the fact remains that the media remains fascinated with Palin – or at least fascinated by the ratings and viewers she is able to draw – because numbers don't lie. So, it's a bit difficult to argue that The Media (lamestream, blamestream or otherwise) is forcing Palin down the public's gullet when people keep willingly consuming, if not seeking out, more and more information about her or the latest headlines she's managed to inspire.
Say what you will about Palin, but the woman is adept at keeping her name in people's mouths. And she continues to make her mark on politics, pop culture, slang, fashion, and history. Of course, it's a chicken-or-egg scenario depending on whether you believe Palin is able to impact media coverage because she is an influential figure, or if she's an influential figure because the media deems her worth the coverage.
Have a tip we should know? tips@mediaite.com