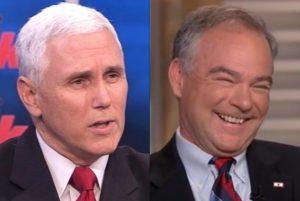 After months of speculation about who the major party candidates would choose to be a part of their presidential tickets, it's nearly time for the Vice Presidential debates live from the campus of Longwood University in Virginia. Indiana Governor Mike Pence will represent the Trump candidacy battling Senator Tim Kaine of Virginia, Hillary Clinton's choice for VP.
All debates are from 9-10:30 PM Eastern and will be airing on all major networks (NBC, CBS, ABC, PBS, CNN, Fox News, Fox Business, CNBC, MSNBC, Univision, and C-SPAN) simultaneously. Mediaite will have livestreams available online to watch below.
TUESDAY, OCTOBER 4 (VP DEBATE)
The next event on the debate schedule will be Tuesday, October 4 in Farmville, Virginia from the campus of Longwood University. It will feature the two Vice Presidential candidates going head-to-head. Clinton's Veep choice Tim Kaine of Virginia will be the hometown favorite taking on Mike Pence of Indiana, the governor who joined Trump's ticket on July 16. The event will be moderated by CBS News's Elaine Quijano, a weekday anchor for CBSN and a stalwart of the network's political coverage.
SUNDAY, OCTOBER 9
The second time that Hillary Clinton and Donald Trump will square off will be in Missouri on October 9, a controversial date set by the Commission given that it will be going up against Sunday Night Football on NBC (it was a move that was decried by Donald Trump, although the bipartisan Commission released the schedule a full year ago). The event will be co-moderated by Anderson Cooper of CNN and Martha Raddatz of ABC from the campus of Washington University in St. Louis, and will be produced in the "town meeting" style. While the moderators for the event will certainly be contributing many questions, the candidates will also face participants in the room and via social media.
WEDNESDAY, OCTOBER 19
The third and final presidential debate will be occur just a few weeks before election day live from beautiful Las Vegas. It will follow the same format as the first debate, and will be moderated by Chris Wallace from Fox News. UNLV will be the school hosting the event, which will serve as the final showdown between the major party candidates before voters head to the polls just 20 days later.
Watch live feed above, via NBC News.
[Images via Shutterstock]
Have a tip we should know? tips@mediaite.com