White Nationalist Launches 24/7 Support Hotline for Bullied Trump Supporters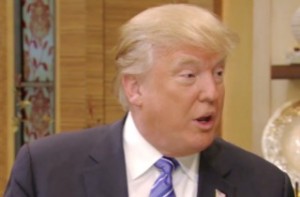 An avowed white nationalist and Trump supporter has launched a 24/7 phone hotline "to help those who are attacked physically and verbally for supporting Trump," he told The Daily Beast.
The "Trump Harassment Hotline" comes courtesy of William Daniel Johnson, a Los Angeles-based lawyer who has spoken of his desire to create "a white ethno-state" since "that's the only way western civilization and the white race will survive."
The hotline will provide legal and psychological counseling for any Trump supporter in need of a lawyerly advice or just a friendly ear. The Beast's Gideon Resnick reports:
"We have three counselors lined up including one person who has been a volunteer for a rape crisis hotline for 8 years," Johnson said in an email exchange with The Daily Beast.

"We also have four attorneys lined up to assist if the harassment arises to legal claim. These four lawyers are licensed in five different states, but they each have contacts to cover most states."
Johnson is the president of the American Freedom Party (AFP), which was "initially established by racist Southern California skinheads," and "aims to deport immigrants and return the United States to white rule," according to the Southern Poverty Law Center. 
Via the super-PAC, American National, the AFP and Johnson organized robocalls that targeted voters in Iowa and New Hampshire before the states' respective caucuses and primaries, encouraging people to vote for Trump. One such call said: "We don't need Muslims. We need smart, well-educated white people." And another said: "I am a farmer and a white nationalist. Support Donald Trump."
According to the Beast, those robocalls now target Utah voters, who are going to the polls Tuesday. The latest robocall for Utahans specifically blasts Mitt Romney, with Johnson's voice proclaiming:
This robocall goes out to all millennials and others who are honest in all their dealings. Mitt Romney has viciously attacked Donald Trump. Mitt Romney and his establishment conservatives are both mean spirited and dishonest. The white race is being replaced by other peoples in America and in all white countries. Donald Trump stands strong as a nationalist. Mitt Romney and his establishment conservatives pretend they don't care."
When asked in February about Johnson financially supporting his campaign, Trump said he would return Johnson's $250, and said his campaign had disavowed the support of super-PACs.
[h/t The Daily Beast]
Have a tip we should know? tips@mediaite.com