Who Do You Work For? Two Mystery Shoppers Buy 4,000 Copies Of Two Long Island Weeklies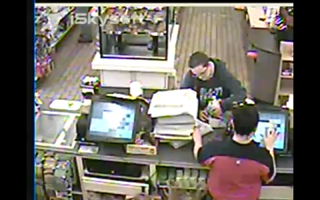 Two Long Island weeklies saw an unusual spike in sales last week when to mystery shoppers bought out all of the Suffolk Times and the Riverhead News-Review from 7-11's and bagel shops throughout the county. The two still-yet unidentified print fanatics picked up almost 4,000 copies of the September 22 issue from nearly 30 establishments, because, well, no one really knows why.
The owner of the company that publishes the two papers, Troy Gustavson, wrote a column yesterday speculating that the buy-up might have been the work of "someone involved in a truly monumental school project; someone really proud of their grandchild on the honor roll; someone with a great deal of precious glassware to pack; or, as I suspect, someone intent on suppressing the dissemination of a particular news story." Could it have been football players, particularly proud of their latest win? Politicians weary of attack ads? The local doctor who was arrested for medicare fraud in an antiquated attempt to clear his name?
The doctor claims that such is not so, and his lawyer assured the New York Times that, "He didn't do it, and he didn't tell someone to do it." And anyways, his story remains easily accessible online.
The mystery continues to excite the papers, and yesterday the Suffolk Times launched their own mini-investigation, obtaining surveillance footage from one of the hit 7-11's in hopes of identifying the buyers. The woman they report, was "wearing a blue sweatshirt, jeans, white sneakers and glasses," and told the clerk that she needed the papers — but specifically the Times and the News-Review and not Newsday or The Southampton Press — for moving. It took her three trips to get the full stack out of the store and into her trunk. Whatever the project may be, it sounds neither cheap (the papers go for a $1.50 per pop) nor like light lifting.
h/t Pats Papers
Have a tip we should know? tips@mediaite.com