Why Did A Profile On The Incoming CIA Deputy Director Focus On Her Her Bookstore 'Erotica' Nights?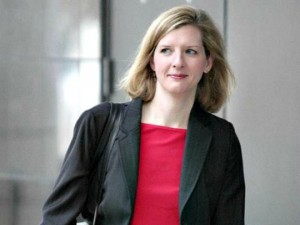 Last week, President Obama made history by announcing the first-ever female deputy director of the CIA. Avril Haines immediately started getting all the attention the media gives to people once they realize this person exists and therefore they need to cover some kind of interesting angle on them for viewers/readers. The Daily Beast dug up a story that in the 90s, Haines ran a bookstore where a lot of erotic fiction was read. No, you did not read that wrong. Media Matters raises an important question about the highlighting of this particular detail: is this the kind of profile that only women get, and is it fair?
The Daily Beast profile went up on the Reliable Source blog late last week, and it begins with this sentence.
The former host of "Erotica Night" at a Baltimore bookstore will be the first-ever female No. 2 official at the CIA.
Wondering what any of this has to do with being appointed to be the deputy director of the CIA? Who cares? It's a thing she did in the 90s and she's in the news now, time to get out all the details!
And, yes, there are details.
20 years ago, Haines opened and co-owned Adrian's Book Café in the Baltimore waterfront neighborhood of Fells Point. She opened Adrian's after dropping out of a graduate program in physics at Johns Hopkins University. The store featured regular "Erotica Nights." including dinner and a series of readings by guests of published work or their own prose, according to a 1995 report in the Baltimore Sun; couples could attend for $30, while singles paid $17.

"Erotica has become more prevalent because people are trying to have sex without having sex. Others are trying to find new fantasies to make their monogamous relationships more satisfying," Haines, then in her 20s, told the Sun. "What the erotic offers is spontaneity, twists and turns. And it affects everyone."
Is this how the media should be covering women in positions of power?
It's not an easy answer. Profiles don't normally get this personal, but that's not to say men haven't had their fair share of really personal stories printed. Remember last month, when we got the inside scoop into President Obama's prom?! Like, from over three decades ago? Well, the story had the bizarre, really personal detail revealing Obama referred to his friend's prom date as "extremely sweet and foxy." There's also this Washington Post piece (on the same blog that also covered the Haines erotica revelations) that's entirely devoted to the political implications of Congressman Aaron Schock going shirtless (with the requisite pictures of said congressman lacking said shirt).
So men do get their share of weird, sexualized stories from time to time. But Eric Boehlert argues that the disparity of coverage is just too staggering to write off.
Handbags? High heels? Erotica? These are the windows through which we should view powerful female players in Washington, D.C.? Shouldn't we be past these shallow forms of gender identification?

As Slate's Rachel Larris wrote in the wake of the Times and Post pieces about purses and shoes, rather than providing color for readers, "Inclusion of such details has an unintended and detrimental effect for subjects of their stories," which was confirmed in a recent study by Name It. Change It. That treatment also promotes the notion that women, and especially influential working women, can be best understood by examining what they wear and the accessories they choose. (Or the R-rated books they might read.) And that those appearance choices represent conscious decisions to by the women to define who they are, both personally and professionally.

It's a media guideline that is almost never applied to male counterparts.
Does he have a point? Is it unfair for powerful women to get these profiles about their fashion choices and that time they once read erotic novels when powerful men don't by and large get the same treatment?
—–
Follow Josh Feldman on Twitter: @feldmaniac
Have a tip we should know? tips@mediaite.com
Josh Feldman - Senior Editor