'Wild Bill' Stanton Confronts Anthony Weiner, Provokes Fiery Sermon In Response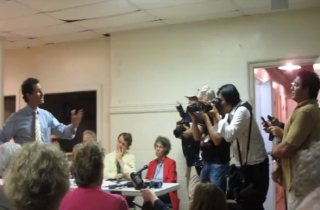 During his Tuesday afternoon appearance at the City Island CIVIC Association in New York, embattled mayoral candidate Anthony Weiner was confronted by famed private investigator "Wild" Bill Stanton about his desire to continue running despite his continued "sexting" scandal.
"We live in an age now where I see a political class where we have a governor soliciting prostitutions, where we have people embezzling money, in San Diego they're using taxpayer money to defend sexual allegations, and your trials and tribulations," Stanton began his question. "You asked the people, first, you lied to the people of New York and tens of thousands of dollars were spent — taxpayer dollars — defending an investigation you knew not to be true."
He continued: "And then you go ahead and do it again. So the question is: When do you take a mirror? A mirror to look inside and say, if you really mean what you say — that you're for New York — is there someone better qualified than you to do this job? And when do you say enough is enough?"
Weiner's lengthy response was fiery, impassioned, and at times defensive.
"Look, that's for you to decide," the mayoral candidate told Stanton after conceding that he had "dishonored" himself and his wife with the "old but coming back" news of his sexting habits. "You have a long record to look at. I did not come to the people in this room and say 'I'm going to embezzle money,'" he added to applause from the crowd.
-RELATED: Fashion Designer Disses Eliot Spitzer's Sexy Time Socks
At one point during the five-minute response, Stanton attempted to interrupt to clarify that it was a public "trust" issue independent of the fact that Weiner hurt his wife. The mayoral candidate shot back that "I violated the trust of my wife, and it was wrong, and people have every right in the world to say that disqualifies me. But I'm not going to quit based on that. And I'm a little curious: Why would you want me to?" he said to applause.
"I don't quit. New Yorkers don't quit," Weiner continued, "I'm not going to go into the corner and curl up because people found out something embarrassing about me." He then turned it around on Stanton and suggested that dealing sternly and honestly with these sorts of questions "without quitting" is exactly the sort of mayor he intends to be.
"If you don't want to vote for me, do not vote for me," Weiner then said directly to Stanton, "but do not deny these people the right to vote for me if they want to."
Watch below, via YouTube:
Have a tip we should know? [email protected]