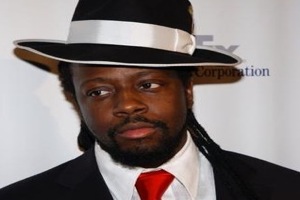 Some celebrities spend a lifetime trying to legitimize their political opinions through the media. Soon, it is expected musical artist Wyclef Jean will be trying to legitimize it through his country's political system, announcing a bid for president of Haiti.
It may be one of the least desirable jobs on earth after the devastating earthquake earlier this year, but the AP is reporting that sources close to Jean say he will announce his candidacy on Thursday:
Former Deputy Pierre Eric Jean-Jacques told The Associated Press that the hip hop artist will run as part of his coalition in the Nov. 28 election. […]
Jean-Jacques, who will be seeking to return to the Chamber of Deputies in the election, said he will be a candidate for a new coalition that calls itself Ansanm Nou Fo, which translates as "together we are strong" in Creole. "Yes, we have an agreement (with Jean). But he's the one who has to announce it first," Jean-Jacques told AP, declining to elaborate on their political plans.

Jean is popular in Haiti for his music and for his work through his charity Yele Haiti, which raised millions of dollars after the Jan. 12 earthquake that killed an estimated 300,000 people and knocked down most of the government ministries and many of the homes in the capital.
Jean's spokeswoman has declined to confirm it, though she does state that Jean will make an announcement on Thursday. If he runs, he will be running against "dozens" of like-minded people that want to run the nation, including one of his uncles, Raymond Joseph, Haiti's ambassador to the US. "Other likely candidates," the AP report continues, "include former prime ministers, mayors and another popular Haitian musician, Michel 'Sweet Micky' Martelly."
Looks like America's beloved eccentric politicians (I'm looking at you, Alvin Greene and Basil Marceaux) have some competition from several miles south.
Have a tip we should know? tips@mediaite.com