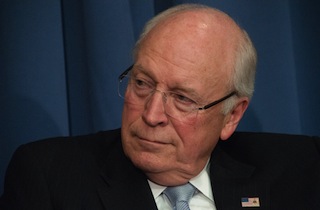 If you're collecting former Bush administration officials weighing in on the crisis in Iraq, you may now add former Vice President Dick Cheney to your list.
Cheney and daughter Liz wrote an op-ed for the Wall Street Journal Tuesday evening excoriating the Obama foreign policy.
"Rarely has a U.S. president been so wrong about so much at the expense of so many," the Cheneys alleged. "Despite clear evidence of the dire need for American leadership around the world, the desperation of our allies and the glee of our enemies, President Obama seems determined to leave office ensuring he has taken America down a notch."
RELATED: Halperin Challenges Iraqi Envoy Paul Bremer: Why Should U.S. Revisit 'Failed' Bush Policies?
Arguing that Obama "doesn't seem to care" about the crises in the Middle East, the Cheneys even made use of the golf talking point:
Iraq is at risk of falling to a radical Islamic terror group and Mr. Obama is talking climate change. Terrorists take control of more territory and resources than ever before in history, and he goes golfing. He seems blithely unaware, or indifferent to the fact, that a resurgent al Qaeda presents a clear and present danger to the United States of America.

…Al Qaeda and its affiliates are resurgent and they present a security threat not seen since the Cold War. Defeating them will require a strategy—not a fantasy. It will require sustained difficult military, intelligence and diplomatic efforts—not empty misleading rhetoric. It will require rebuilding America's military capacity—reversing the Obama policies that have weakened our armed forces and reduced our ability to influence events around the world.
The piece ends with a quote from Reagan.
[h/t Wall Street Journal]
[Image via Albert H. Teich / Shutterstock.com]
——
>> Follow Evan McMurry (@evanmcmurry) on Twitter
Have a tip we should know? tips@mediaite.com