Richard Mellon Scaife, Credited with Funding 'Vast Right-Wing Conspiracy,' Dies at 82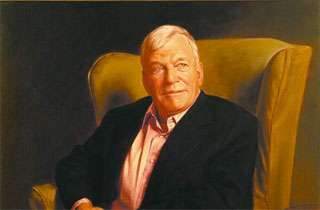 Before there were the Koch Brothers, Richard Ailes, Newt Gingrich, or even Ronald Reagan, there was Richard Mellon Scaife, the heir to the vast Mellon fortune, and one of the driving forces of the rise of modern conservatism. A key figure in the 1998 impeachment of Bill Clinton — and, by many accounts, the financier of the "vast right-wing conspiracy" of the 90's — Scaife died this weekend at the age of 82.
In his obituary, the New York Times credited Scaife with using his fortune, estimated at more than $1.2 billion, to fuel the rise of neoconservative politics in the 1980's and 90's by funding, among other groups, the American Enterprise Institute, the Heritage Foundation, and the Cato Institute, as well as publications like the American Spectator.
Notably, he funded investigations against the Clinton family during the 90's, bringing Whitewater, Paula Jones, and, ultimately, Monica-gate to the public eye:
The accusations, which prompted Mrs. Clinton to say on national television that her husband was the target of a "vast right-wing conspiracy," troubled the administration for most of its tenure. They led to the convictions of 15 people in criminal cases, the appointment of a special prosecutor and the president's impeachment by the House on perjury and obstruction of justice charges and his acquittal by the Senate, both by largely partisan votes.
Ironically, his newspaper, the Pittsburg Tribune-Review, endorsed Hillary Clinton in the 2008 presidential election, with Scaife saying that "I have a very different impression of Hillary Clinton today. And it's a very favorable one indeed."
[NYT]
[Image via Chas Fagan/2008 portrait]
—
>> Follow Tina Nguyen (@Tina_Nguyen) on Twitter
Have a tip we should know? [email protected]