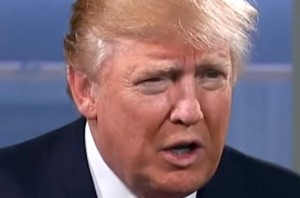 Five times during a sit-down interview with The Washington Post Tuesday, Donald Trump suddenly interrupted the conversation to talk about whatever was playing on TV at the moment.
As Philip Rucker and the GOP candidate sat down for an interview at Trump National Golf Club, a television tuned to Fox News was playing in background. Trump evidently watched it closely for the entire 50-minute interview, commentating on Fox's programming with regularity even when it meant derailing the topic at hand:
1.
RUCKER: Would you want [Ivanka] to follow the path that Gretchen Carlson did?

TRUMP: I'd want her to do what makes her happy. I'd want her to do, Phil, what makes her happy. [Trump looks at a nearby television.] Oh, did they have another one of these things go down? It's terrible that crash. Never liked that plane, structurally. I never thought that plane could —
2.
TRUMP: They're very close elections. [Tim Kaine] even said they were very close. But his first move as governor of Virginia was to raise taxes by 4 billion dollars. He was not popular in Virginia. He wasn't popular. [Trump looks up at the television] Do you believe that Debbie Schultz, Wasserman Schultz, there she is. She's very happy — look how happy she looks. She looks very happy.
3.
RUCKER: Even though on a couple of these instances he's shone some daylight with you, like over the Khan —

[crosstalk]

TRUMP: [Trump watches himself on TV] Lot of energy. We got a lot of energy. She certainly doesn't look presidential to me, Hillary. I don't think you get to look less presidential actually than Hillary.
4.
RUCKER: Well, half the people in your rallies are veterans.

TRUMP: [Looks at the television again] Look at this. It's all Trump all day long. That's why their ratings are through the roof. I'd hate to say, Philip, if I wasn't running, the television networks would be doing less than half the business.
5.
TRUMP: I got more votes than anybody in the history of Republican politics. By millions. Don't forget. How about if I had two people in the race? The number would've been twice as good. In other words, people with 2 million people. Because the Republican party increased. [Trump looks at the TV.] That statement's gotten a lot of play. I love that statement we wrote. So I'm just not quite there yet.
[Image via screengrab]
——
>>Follow Alex Griswold (@HashtagGriswold) on Twitter
Have a tip we should know? tips@mediaite.com